OpenSolar has developed an integration with Plenti for residential finance so that you can offer loans to your customers directly through the Online Proposal proposal. It allows your customer to apply for the loan online, through OpenSolar!
Plenti offers two payment options on OpenSolar Platform:
Green Loans

Zero Interest Payment Plan

(formerly 'Buy Now Pay Later')
Note:
Accredited Plenti vendor needs to be approved by Plenti to use the Zero Interest Payment Plan to be able to access it on their OpenSolar account. If you are not approved yet, please get in touch with you Business Development Manager at Plenti.

Direct customer applications are not supported for Zero Interest Payment Plan. Installers can apply on customer's behalf from the Online Proposal page
Please read these steps to get this integration setup:
1. Navigate to the control zone Control of the app, clicking on pricing & payments, and then payment options. You will see a banner where you can click to activate Plenti.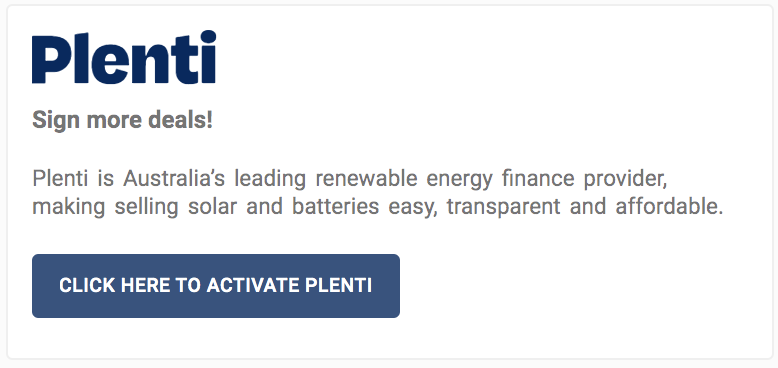 2. Press on the

click to activate plenti

button, then proceed with "

get started

". You will then have two options:
Apply to become a Plenti partner

Request a callback if you are already a Plenti partner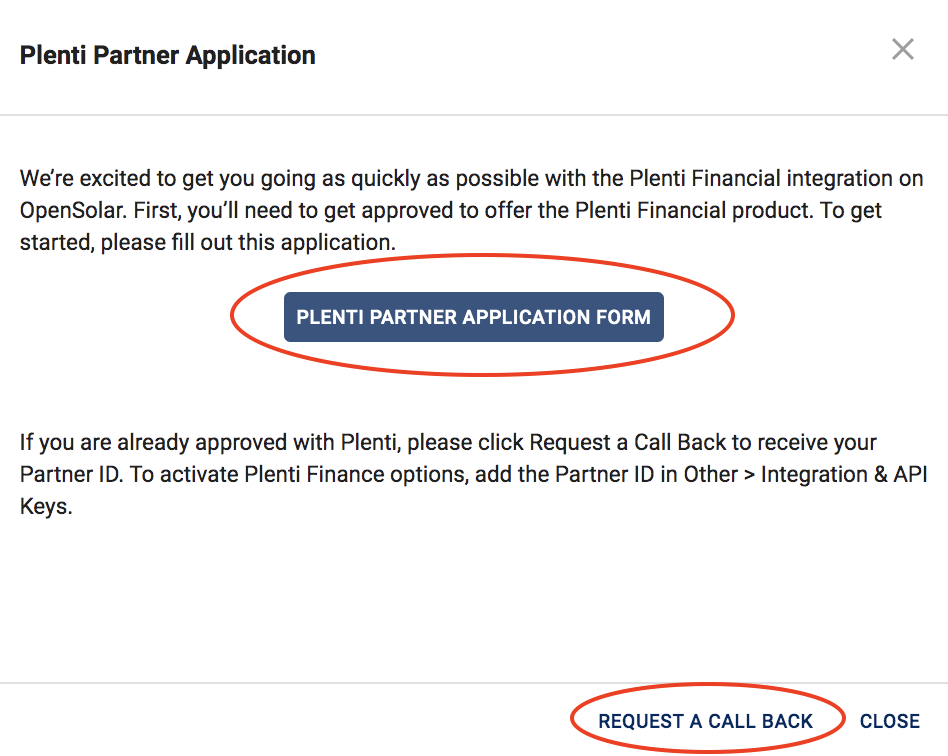 We will then process your request, and enter your unique Plenti ID tokens into your OpenSolar account for you. We will notify you once this step is complete. Once you have received your Plenti ID tokens in your account, you can proceed with the following steps to offer Plenti products to your customers.
3. Navigate to control > payment options > click this button to import/refresh your Plenti products. This will be live and up to date with Plenti's current offering.

The Plenti products will then populate/refresh into your list of payment options.
Now you can offer these as you normally would with other payment options by either clicking

and switching on

auto-apply

so that it is a default payment option for future projects, OR manually selecting the payment option in

Project > Design > payment options > override default

.
When a Plenti payment option is offered, it will appear in the Online Proposal as you would expect: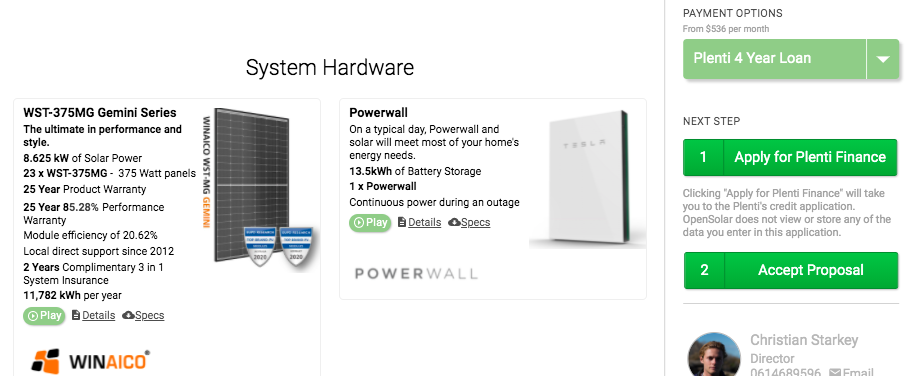 Note that when the Plenti payment option is selected, there are 2 options :
Apply for loan

: this will open up the Plenti iframe for your customer to apply for the finance online on the online proposal. If necessary, you may want to complete this process with them. Or, you can even complete it for them whilst you have them with you or on the phone.

Accept Proposal

on the online proposal page. You will receive a notification by email when this happens, as well as an entry in the project history log. This step can be done before the loan application so you can secure the deal right away.
Now you should be set up and ready to start using our Plenti integration on OpenSolar.
How to handle dealer fees properly?
OpenSolar provides flexibility on how the pro wants to handle the dealer fee for a loan/integrated finance payment option. Click on the link below to understand how dealer fee option works:
Handle dealer fee for finance options
Important point to note:
Pros cannot quote both Green Loan and Zero-percent interest free loan for the same proposal.
As always, should you run into issues, don't hesitate to contact us at support@opensolar.com for assistance.