OpenSolar has partnered with Cloover to enable residential solar installers across Europe using the OpenSolar platform to seamlessly make Cloover financial products available to their customers. Through this partnership, customers will be able to apply for Cloover financing solutions directly from their OpenSolar proposal, allowing for a more accessible and flexible subscription that requires no upfront costs.
How to get setup with Cloover on OpenSolar?
1. Navigate to the Control zone of the app, clicking on pricing & payments, and then payment options. You will see a Cloover banner at the top. You can connect to Cloover by clicking the "Learn More" button. 

2. Click on Connect Cloover button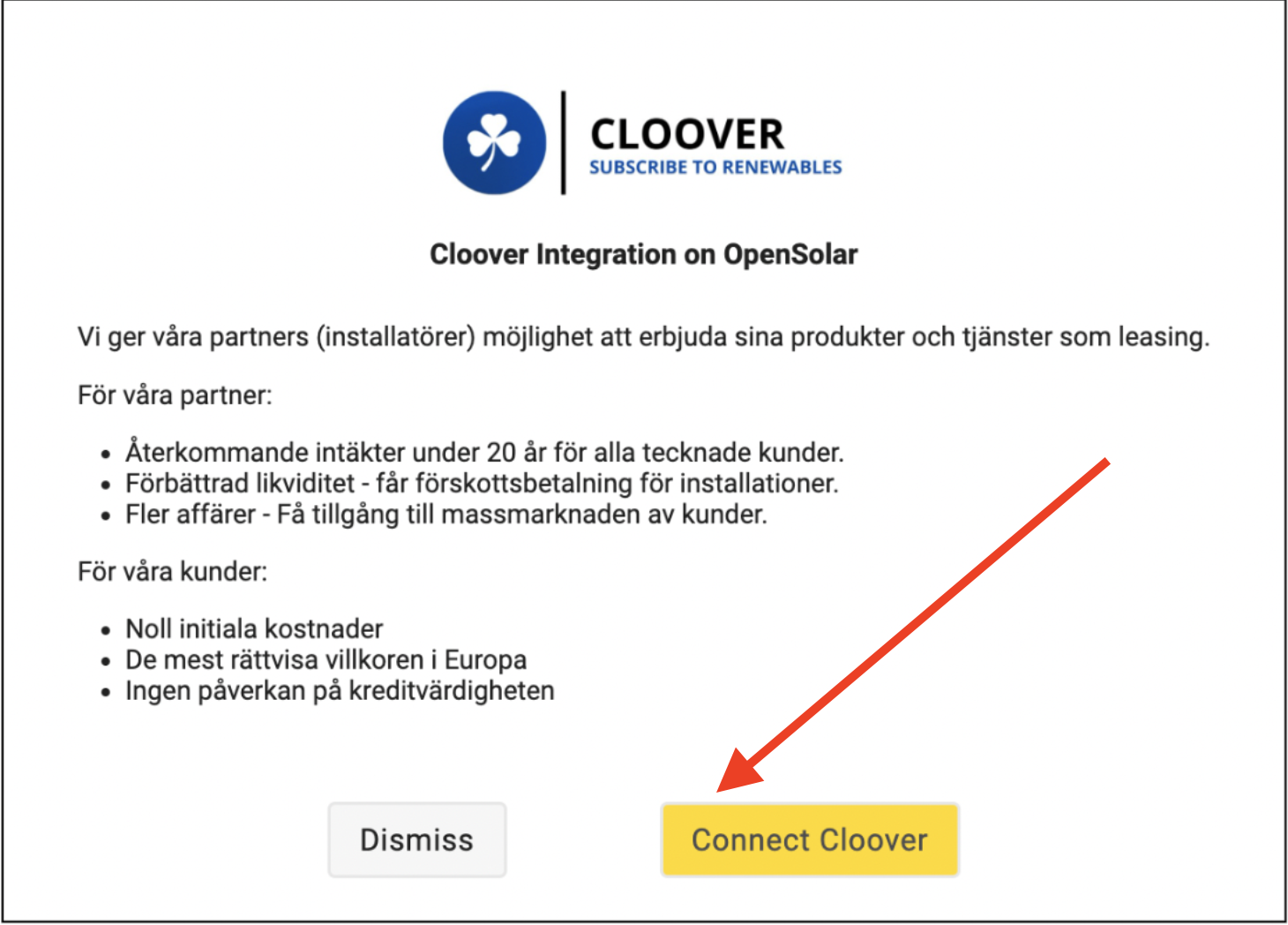 Clicking that button will take you to this dialogue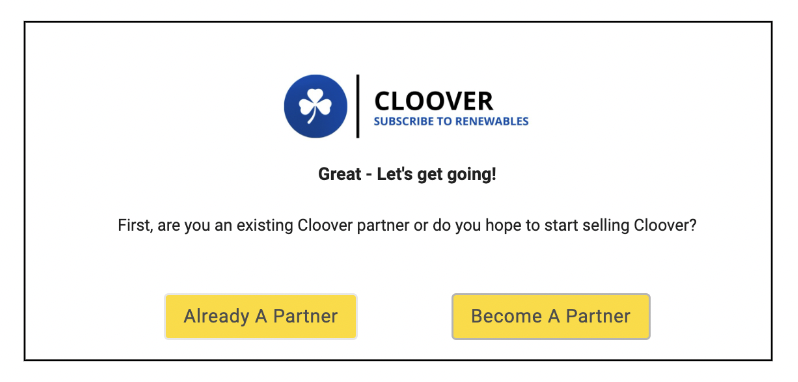 Already a Cloover Partner? We'll just need to integrate Cloover financing into your OpenSolar account. Simply click on the "Already A Partner" button and fill* out the form. Once we have received your Cloover integration request, we'll activate the integration within one business day, and notify you. 

*This is how the form looks like:


Not currently a Cloover Partner? First thing you'll need to do is get approved for their program.  Click on "Become A Partner", fill* out the form and hit submit. Once we have received your Cloover request, o

ur team will then contact Cloover to confirm your details. Once we receive confirmation, we'll activate the integration for you within one business day and notify you.
Please note: Once we receive the request from you, OpenSolar staff members will be activating the integration for you.
3. Once the integration is activated Cloover products will automatically populate/refresh into your list of payment options and will be auto-applied as a payment option for your projects.

Please note: You will need to refresh the products intermittently in order to ensure that you have the latest loan products available to you.
4. Now you can offer these as you normally would. When a Cloover payment option is selected, it will appear in the Online Proposal like so: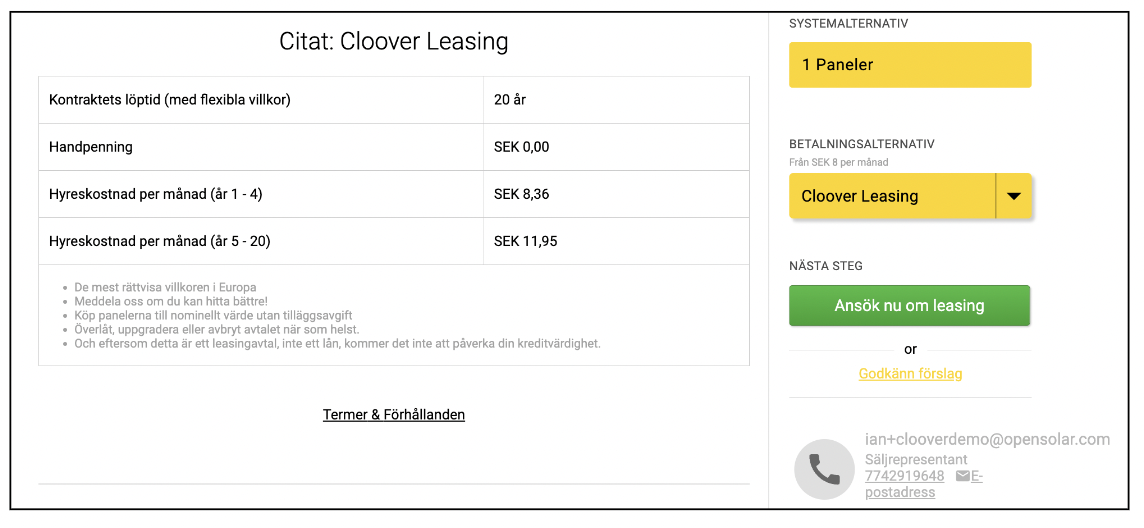 5. Your customers will then be able to apply for the loan by clicking the Apply Now button. This will open a Cloover iframe for your customer to apply for the finance online on the online proposal.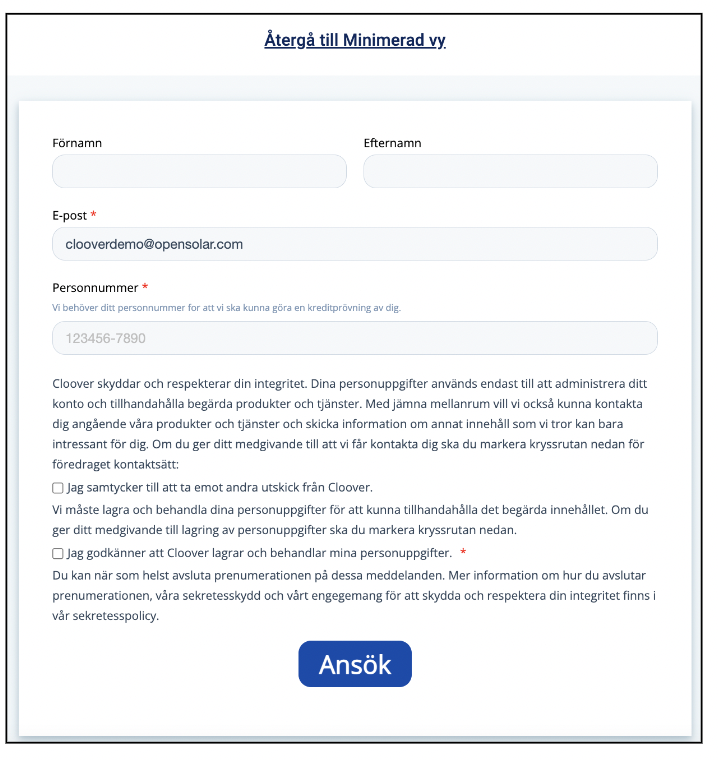 Now you should be set up and ready to start using our Cloover integration on OpenSolar!

As always, should you run into issues, don't hesitate to contact us at support@opensolar.com for assistance.