OpenSolar has partnered with Sungage so you can sell their loan products directly within your OpenSolar proposal.
About Sungage
Sungage offers the lowest possible monthly payment in solar finance. With loan amounts up to $200K, terms up to 25 years, 0% rates across all terms, and the most attractive solar tax credit deferral in the industry, Sungage helps installer partners win more solar and storage projects.
We do more than facilitate loans–we're here to make you shine. Sungage integrates seamlessly with your sales process, helping you close deals and get paid quickly. Our solar finance specialists always answer the phone and chase down the details so you can focus on achieving your sales potential. Sungage takes care of your homeowners so you succeed and get more referrals.
About the Sungage integration on OpenSolar
Sungage financing through OpenSolar is extremely fast and easy. Once you've built your project on OpenSolar, click the "Get Pre-Qualified!" button and the credit application will pre-populate. Your homeowner can complete the application and have a credit decision in under a minute.
Some of the benefits of this integration include:
Allows your customers to prequalify and apply for a loan from OpenSolar's online proposal, with no need to jump to other windows or applications
Presentation of loan products in Sungage approved language
Eliminates the need for manual data entry into the Sungage Portal
Eliminates the need to manually manage your Sungage products in OpenSolar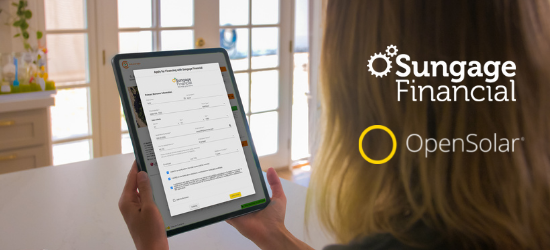 How to get set up with Sungage on OpenSolar:
Not currently a Sungage Partner? First thing you'll need to do is get approved for their program. Send us a note at sungage@opensolar.com and include your name, role, company name, number of installed projects/month, and contact information (email and phone number) or if you're ready to jump in and apply for the Sungage program, you can fill out this application.
Already a Sungage Partner? We'll just need to integrate Sungage financing into your OpenSolar account. To get this process started, send us a note at sungage@opensolar.com and include the following information:
Name:
Role:
Phone #:
Company:
Are you selling on behalf of another company:
If yes, please provide the company name and email contact:
Years in business:
Annual revenue:
Once we have received your Sungage integration request, we'll activate the integration within one business day, and notify you.
As a reminder, there are no additional fees to use the Sungage Integration on OpenSolar.