OpenSolar has partnered with Mosaic so you can sell their loan products directly within your OpenSolar proposal.
About Mosaic
Mosaic makes it easy for solar installers to offer affordable financing options with a range of competitive APRs and low monthly payments at the point of sale. Their platform was designed to fit any sales cycle, making it simple to pre-qualify customers from any device via text, email, or from your own website. With some of the best approval rates in the industry, Mosaic lets you offer solar financing options with confidence, knowing that more of your customers will get approved with fewer stipulations.
About the Mosaic integration on OpenSolar
Your customers can now see multiple Mosaic financing options, apply for credit, and get approval – all without ever having to leave your proposal. That means no multiple apps or sign-ins, and no jumping through hoops. Just a compelling presentation and an easy way to get to 'yes'. Start offering the simplest financing experience in the industry today.
Some of the benefits of this integration include:
Allows your customers to prequalify and apply for a loan from OpenSolar's online proposal, with no need to jump to other windows or applications
Presentation of loan products in Mosaic approved language
Eliminates the need for manual data entry into the Mosaic Portal
Eliminates the need to manually manage your Mosaic products in OpenSolar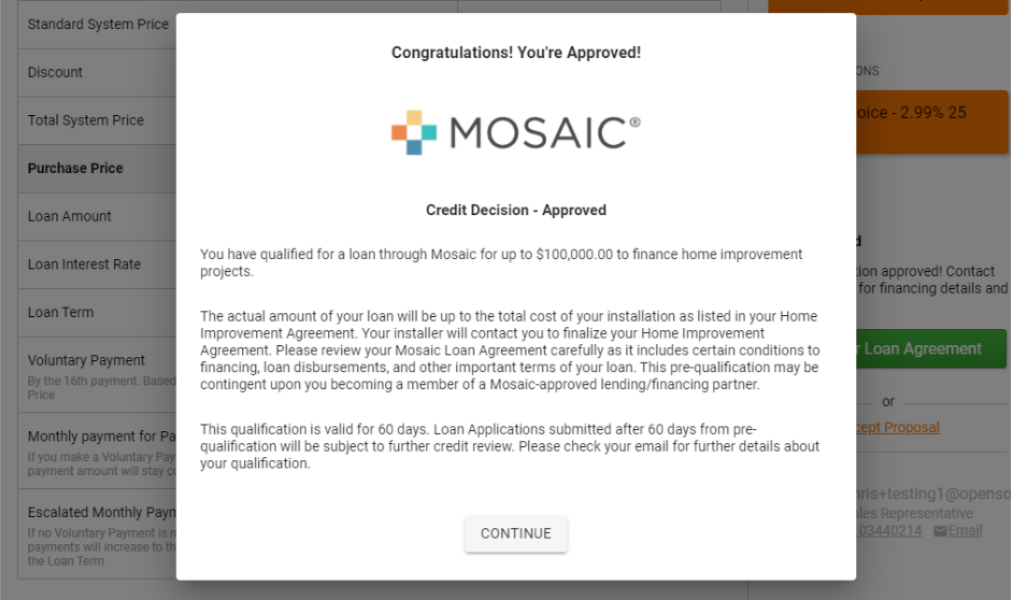 How to get set up with Mosaic on OpenSolar:
Not currently a Mosaic Partner? First thing you'll need to do is get approved for their program. Send us a note at mosaic@opensolar.com and include your name, role, company name, number of installed projects/month, and contact information (email and phone number) or if you're ready to jump in and apply for the Mosaic program, you can fill out the application here.
Already a Mosaic Partner? We'll just need to integrate Mosaic financing into your OpenSolar account. To get this process started, send us a note at mosaic@opensolar.com and include the following information:
Name:
Role:
Company:
Phone:
Email:
Once we have recieved your Mosaic integration request, we'll activate the integration within one business day, and notify you.
As a reminder, there are no additional fees to use the Mosaic Integration on OpenSolar.