Founded in Austria in 1945, Fronius is a global supplier of quality inverter product. With all product still manufactured in Europe, Fronius is committed to the principles or reliability and flexibility to achieve optimised system design for both residential and commercial purposes. Proudly independent and still family owned, Fronius strives to provide long term energy solutions for a better world, a world where we can generate, distribute, store and consume energy from renewable sources. With easy installation, simple communication interfaces and active cooling to maximise energy harvest, Fronius inverters are perfectly suited for Australian conditions.
How to activate exhibiting content from Fronius
Description of Fronius hardware in online proposal BEFORE activating exhibit:
Description of Fronius hardware in online proposal AFTER activating exhibit: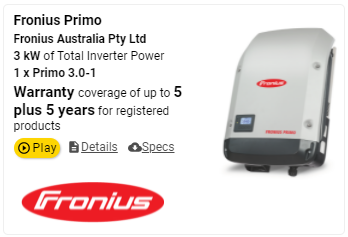 Fronius is a public exhibitor i.e., all active Fronius inverters are available as exhibit to all Solar Pros in Australia. To enable the Fronius exhibit content, please ensure that the inverter codes in your account matches the codes below.
Note: The component Codes are case sensitive.
Here is the list of all Fronius inverters that are available with exhibit content:
Primo Series
Primo 3.0-1

Primo 4.0-1

Primo 5.0-1 INT

Primo 6.0-1

Primo 8.2-1
Symo Series
Symo 3.0-3-M

Symo 4.5-3-M

Symo 5.0-3-M

Symo 6.0-3-M

Symo 7.0-3-M

Symo 8.2-3-M

Symo 10.0-3-M

Symo 12.5-3-M

Symo 15.0-3-M

Symo 17.5-3-M

Symo 20.0-3-M

Symo GEN24 6.0 Plus

Symo GEN24 8.0 Plus

Symo GEN24 10.0 Plus
Eco Series
ECO 25.0-3-S

ECO 27.0-3-S