Including interval data for a project helps your team most accurately model the savings from going solar. OpenSolar supports both vertical and horizontal data at 15, 30 and 60-minute intervals in the form of a CSV file.
OpenSolar allows you to upload interval data to accurately model your customer's consumption profile. This is done within the project > energy page, by selecting "interval data" from the data source dropdown.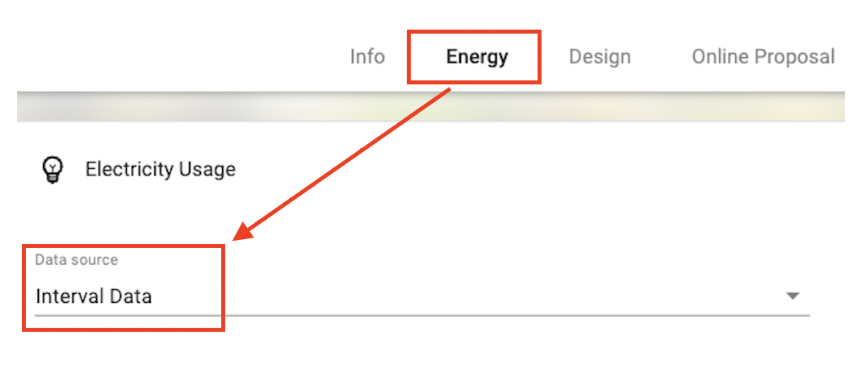 To get started, click on the

button. You will then be presented with a pop up that provides guidelines on the interval data you can upload.
Our tool allows you to upload both vertical and horizontal data at 15, 30 and 60 minute intervals in the form of a CSV file.
Follow the instructions on this screen to view the accepted data formats and proceed to upload your interval data: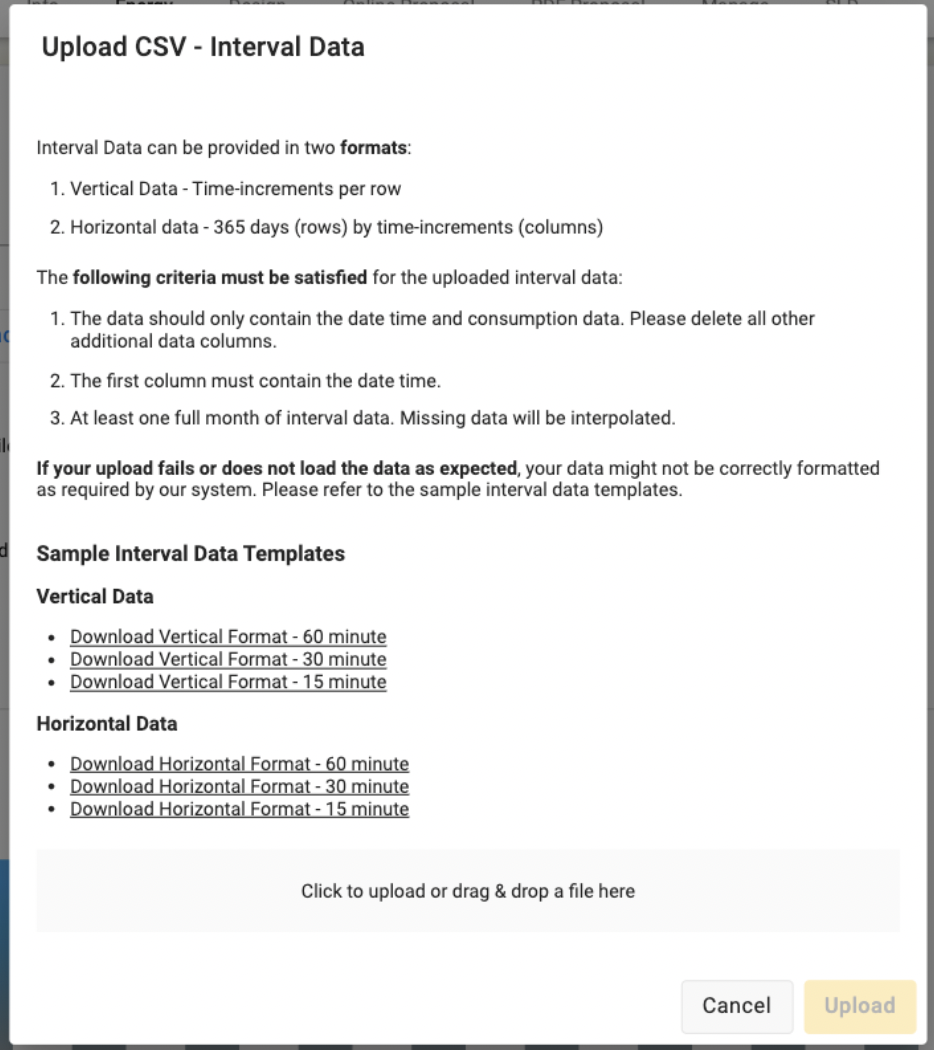 We recommend that you download our sample interval data templates to get an understanding of how your data should be structured in the CSV file. If you find it easier, you could use one of our templates and replace the data with that of your customer's.
Important points to note:
You can upload 15, 30 or 60 minute interval datasets.
The data you upload does not need to be within one calendar year (1 January - 31 December). It can span across separate years and our tool will account for that.
You do not need a full 12 months of interval data. Whatever data is missing from your dataset will be extrapolated by our tool to provide estimates for the missing values.
Your data can be in the form of kWh, Wh, kW or W. You will be able to select the appropriate unit once you have uploaded your file.
Please be patient when uploading your data. Large 15 minute datasets might have slightly longer processing times.
Once your data has been uploaded, you will see that OpenSolar has automatically detected the start and end date of the dataset. You'll also be able to adjust the units, per mentioned above.
In the example below, a full year of interval data was not provided and the missing data points were extrapolated.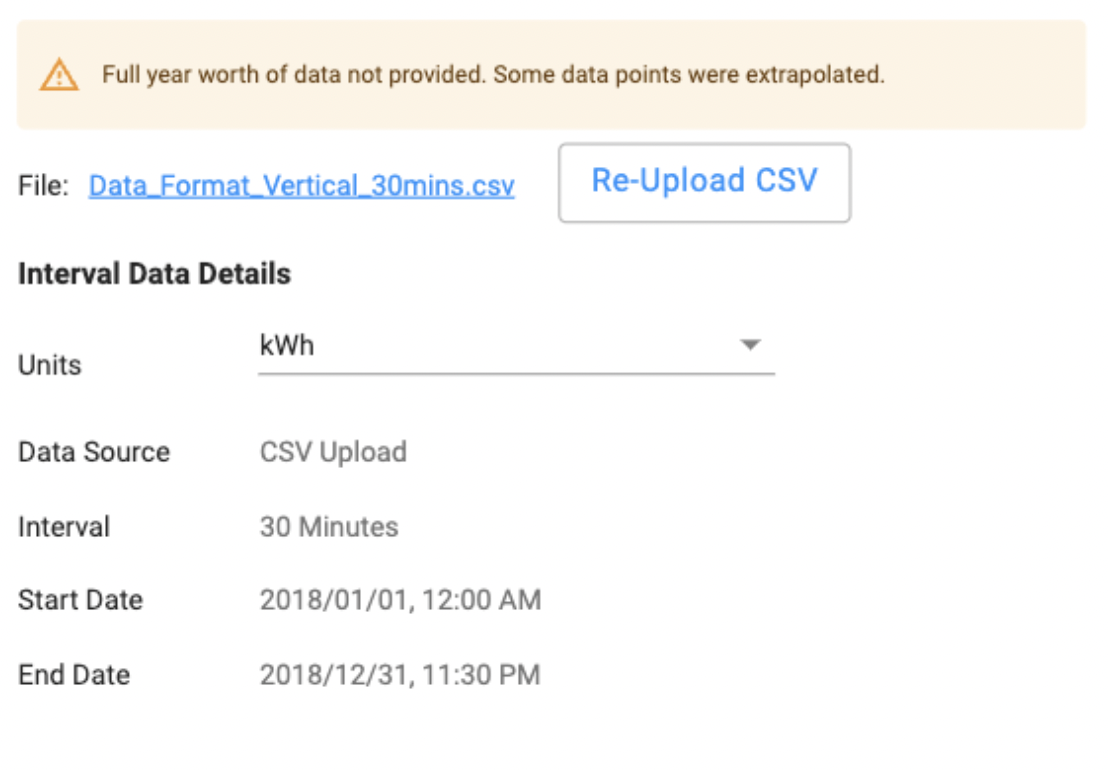 We give you the additional flexibility to adjust the extrapolated values from the monthly consumption table. In the example below, you can freely edit the values in the white cells (the grey cells are locked as they are the data that was included in your CSV upload).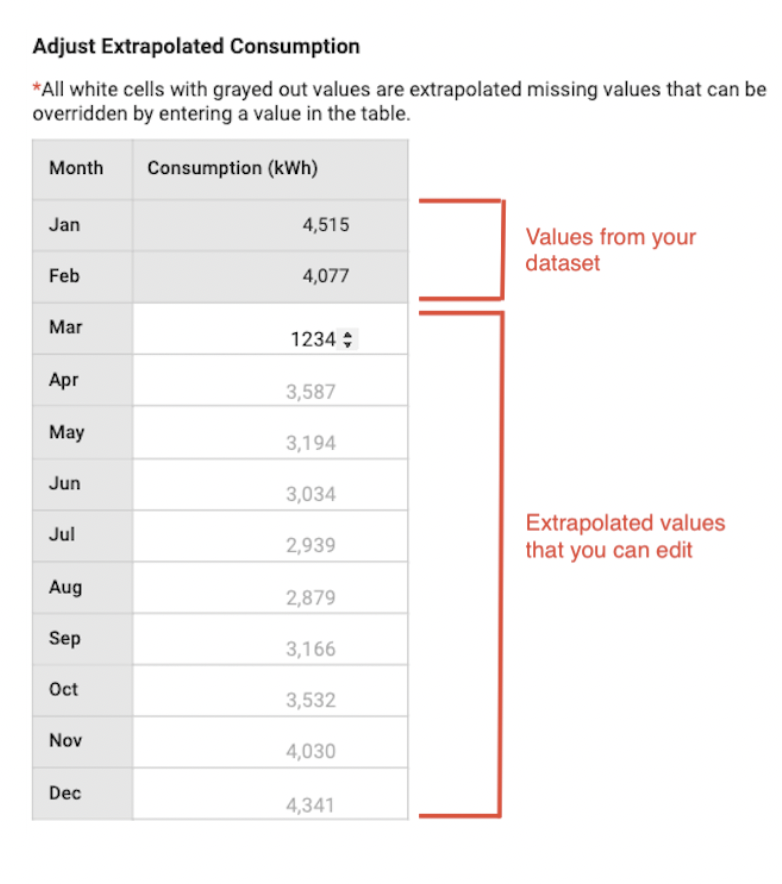 When a full year's worth of data has been uploaded, the table above will not appear. You will be able to see the monthly consumption breakdown in the usual blue chart that appears below this section.
When you are happy with your customers consumption profile, hit save at the top right corner of the screen. If you have any questions about how to use the interval data tool, don't hesitate to contact us by submitting a support ticket here.