Mounting solutions for the photovoltaic industry.
Renusol is specialised in the manufacture and sales of solar mounting systems for all types of roof and was founded in 1997. From its headquarters in Cologne, the company manages its businesses in all core markets in Europe, the Middle East and Africa.
With more than 25 years of experience and the delivery of mounting systems for more than 3 Gigawatts to more than 48 countries, Renusol is one of the key players in the PV industry.
Racking integration
Please note that the integration will not work if the browser blocks 3rd party cookies (which is how it is in the incognito version of the Chrome Browser).
The Renusol racking integration is live in the UK. Soon it will be present in Germany, Netherlands, Belgium and Poland.
It has been added to the Other Components tab in design and is visible only when the Segen integration has been enabled in the Control > Integrations and API keys section.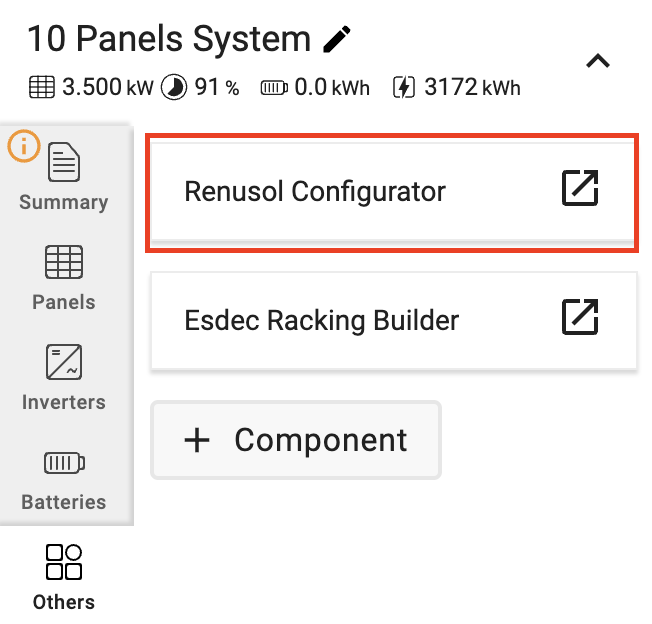 When you click on the Renusol Configurator button in the Other Components tab, it will launch the Renusol Configurator tool as a popup and will send across a few key details about the design, including how many panel groups, location information, panel information and some basic guesses at the roof dimensions. However, you will need to complete some more information that is key to the racking calculations in the Renusol tool and also review the roof dimensions size as it may not give the correct result depending on which product and roof type is selected in this process.
Also we currently assume the panel thickness of 35mm and weight of 20kg for the panels which can be updated in the Renusol configurator if need be.
You should also ensure that each panel group's design is accurate to what is designed in OpenSolar, since OpenSolar does not send the panel group design to Renusol.
An overview of the Renusol configurator workflow is as follows:
Configuration

Design
Part list
Repeat for any other panel groups if necessary.
After you have gone through the Renusol workflow for all of your panel groups, you can click the "Back to OpenSolar" button which will take you back to the app and show you a full list of the components that Renusol recommends.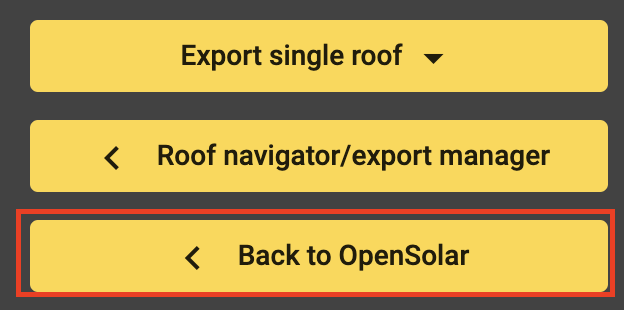 If a panel group is not completed, then we will give a warning in the partlist screen after you come back to OpenSolar and you can then go through the Renusol flow again to update that panel group.
Note that every time you click on the Renusol configurator after the first time it will return you to the same project in Renusol, so if you make any changes to the system design, you must click the Clear Renusol text beneath Renusol Configurator button in order to start a new Renusol project.