California's NEM 3.0 solar compensation scheme - which will apply to any project whose interconnection application is submitted after April 14, 2023 - will significantly change the economics of solar projects for customers of California's 3 Investor Owned Utilities relative to NEM 2.0. (Learn more about NEM 3.0 here.)
California's NEM 3.0 policy affects customers that purchase electricity from the following 3 major utilities:
Pacific Gas & Electric (PG&E)
Southern California Edison (SCE)
San Diego Gas & Electric (SDG&E)
How to Quickly Compare NEM2.0 vs NEM3.0 using Duplicate System
OpenSolar has built a new powerful functionality that allows you to easily compare systems with NEM2.0 and NEM3.0 by introducing a new duplicate system option. (Note: This functionality only works when you select one of the tariff rates managed by the OpenSolar team, and will not work for any custom tariff rate you have created on your account.)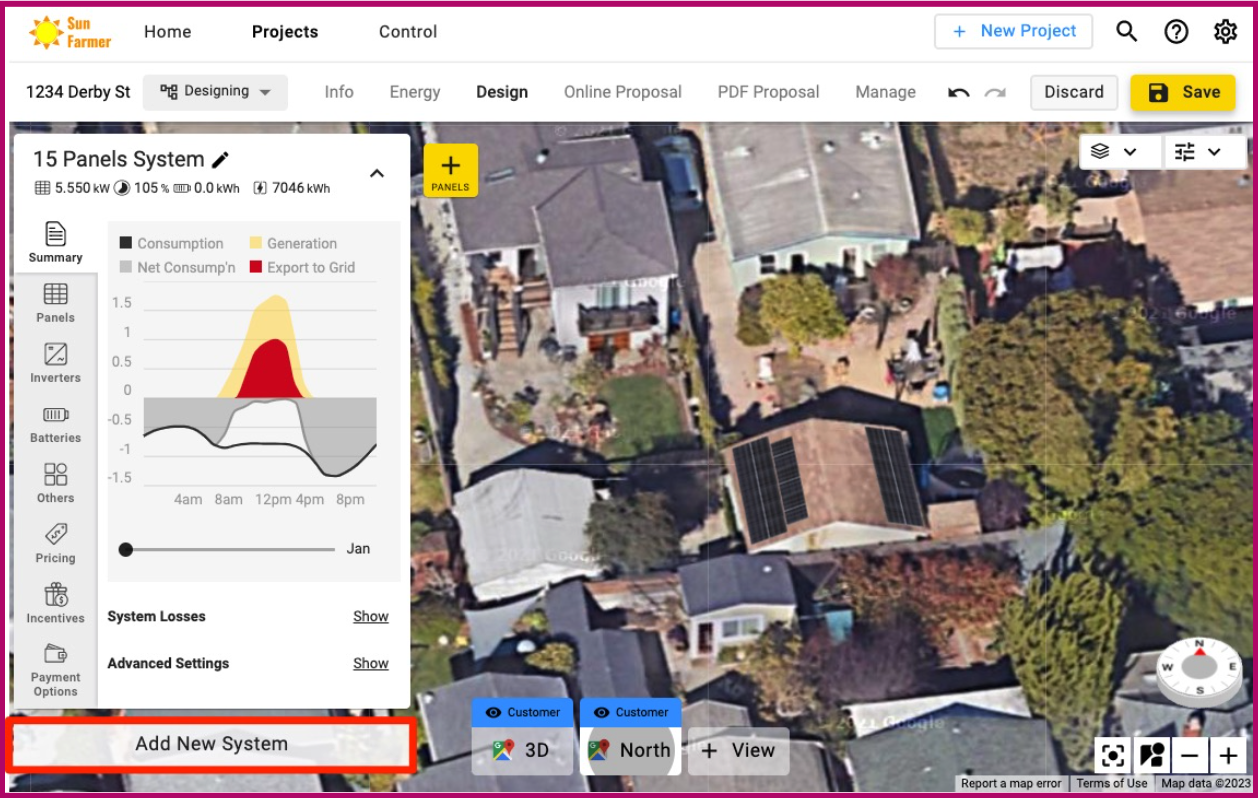 This new duplicate option will create a new system that is a duplicate of the existing system with the same tariff, but with NEM 3.0 applied to the utility bill calculations instead of NEM 2.0. (Or, if you use NEM 3.0 for the initial system, you can use this button to duplicate with NEM 2.0 applied.)
For example if the current tariff rate selected is a NEM2.0 rate, then we provide a NEM3.0 duplicate system option. If the current tariff rate selected is a NEM3.0 rate, then we provide a NEM2.0 duplicate system option.

This also works with low-income tariff rates such as the California Alternate Rates for Energy (CARE) and Family Electric Rate Assistance (FERA) programs by applying the corresponding CARE or FERA rate for NEM3.0 or NEM2.0.
The new duplicate system option may not show up immediately when you first click "Add New System" - you may need to wait 1-2 seconds for that option to appear. If the option doesn't show up after more than 10 seconds then the current rate you have applied may not be included in our utility rate mapping. In this case please reach out to us at support@opensolar.com.
Searching for NEM3.0 Rates Available in the OpenSolar Database
You can easily find NEM3.0 rates in the OpenSolar Database by including the search keyword search "NEM3" as shown in the image below: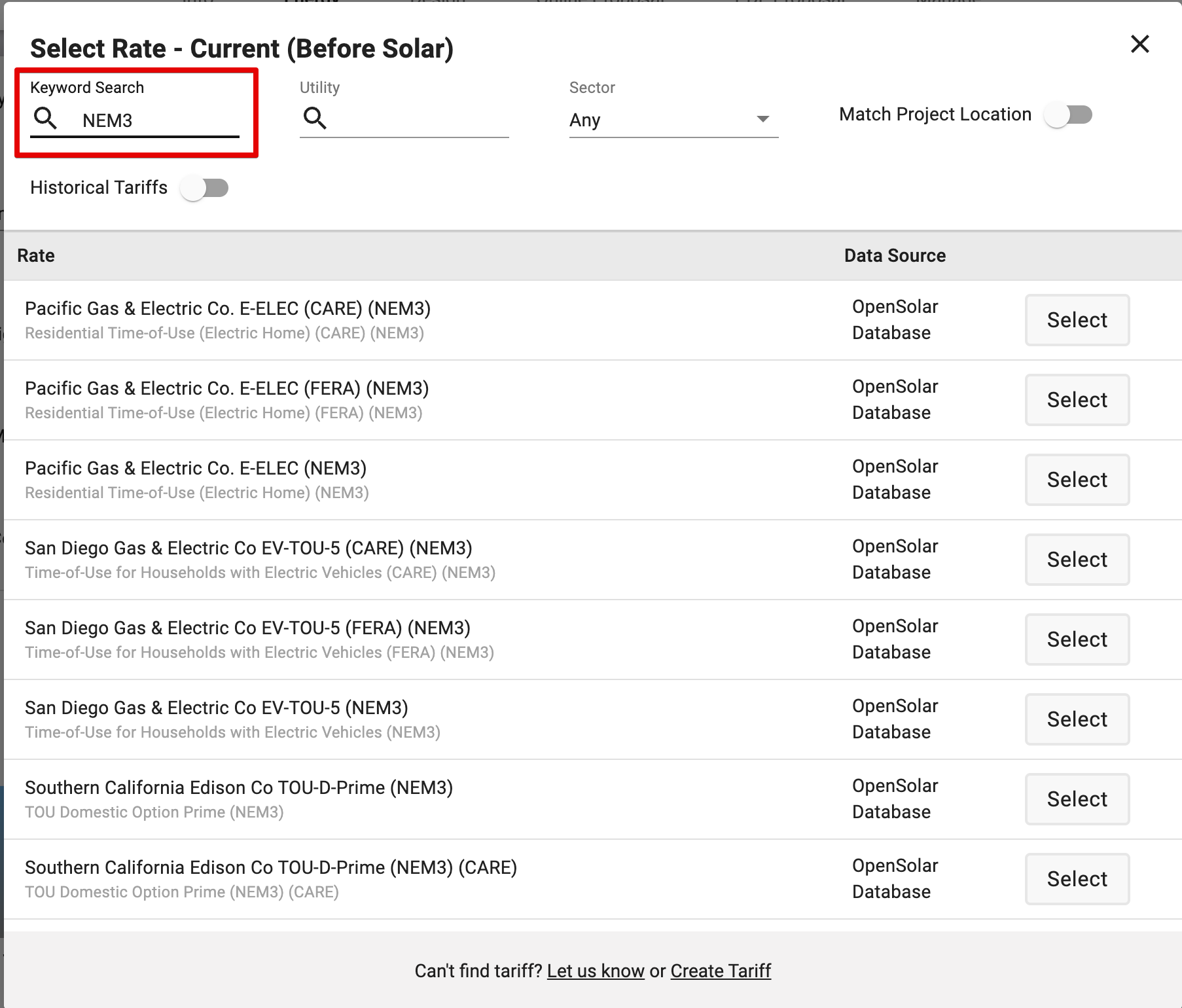 Viewing the Details of a NEM3.0 Rate
If you go to view the details of a NEM3.0 utility rate, you will find a summary of the export rates that applies to that utility tariff rate in the "Solar Compensation" section.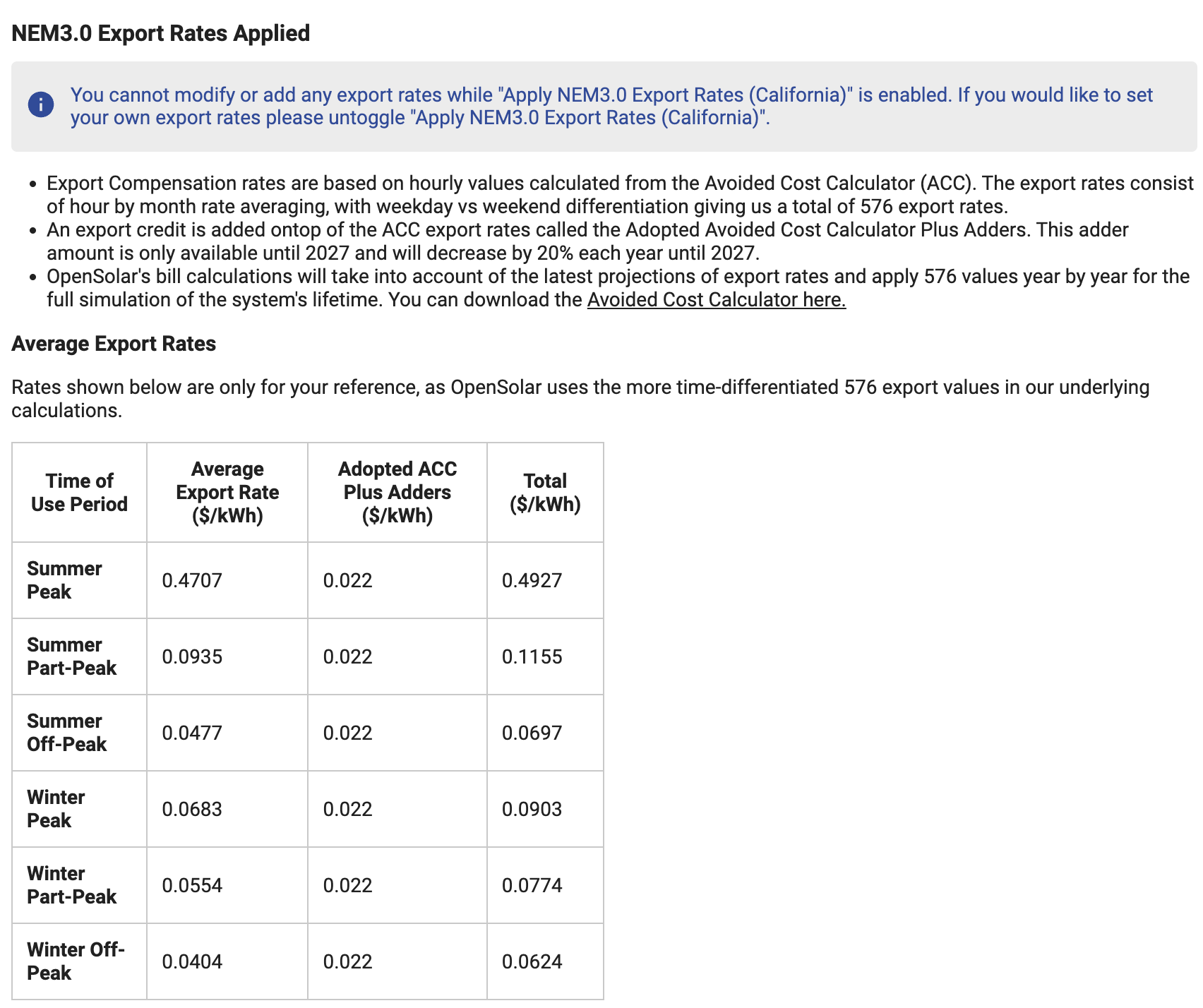 Again, if you'd like any help with modelling NEM 3.0 in your proposals, please reach out to us at support@opensolar.com.