A leading global specialist in photovoltaic technology, SMA is setting the standards today for the renewable energy supply of tomorrow and has been the pioneer in the solar industry for the last 42 years, making SMA the world's longest-servicing inverter manufacturer. SMA's portfolio contains efficient PV inverters, holistic system solutions, intelligent energy management, and battery storage, to name a few.

With its German engineering and design, SMA is the chosen European PV inverter manufacturer brand in the Australian solar market.

SMA's multi-award-winning technology is protected by over 1,500 patents and models. 90GW+ of SMA inverter capacity has been installed in more than 190 countries. Over 750,000 SMA inverters have already been installed across Australia alone, producing more than 35% of Australia's solar electricity. With 100% of inverters comprehensively tested before leaving the factory, you can rely on SMA's German Engineering, Powering Australia.
How to activate exhibiting content from SMA
Description of SMA hardware in MyEnergy BEFORE activating the exhibit:

Description of SMA hardware in MyEnergy AFTER activating exhibit: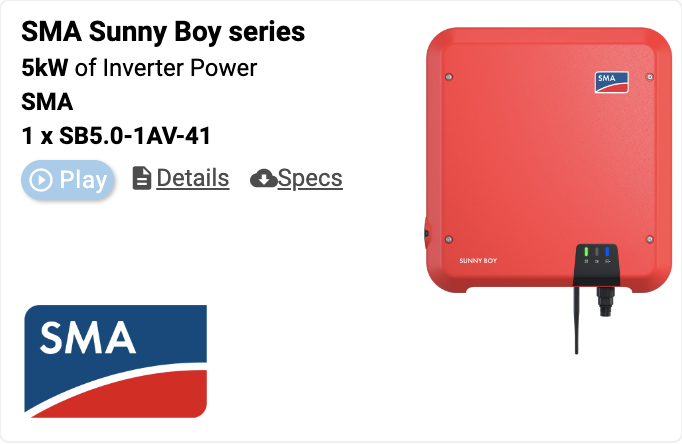 We are happy to announce that SMA (Australia) is now an exhibiting inverter manufacturer on OpenSolar.
SMA is a public exhibitor, i.e., all active SMA inverters and monitoring systems are available as exhibits to all Solar Pros in Australia. To enable the SMA exhibit content, please ensure that your account's inverter and other component codes match the codes below.
Note: The component codes are case-sensitive.
Here is the list of all SMA codes that are available with exhibit content:
Inverters (PV Inverters)
SB3.0-1AV-41

SB4.0-1AV-41

SB5.0-1AV-41

SB6.0-1AV-41

STP3.0-3AV-40

STP4.0-3AV-40

STP5.0-3AV-40

STP6.0-3AV-40

STP8.0-3AV-40

STP10.0-3AV-40

STP 50-40

STP15000TL-30

STP20000TL-30

STP25000TL-30

STP 110-60

SB1.5-1VL-40

SB2.0-1VL-40

SB2.5-1VL-40
Other Components (SMA Monitoring and Battery Inverters)
Sunny Home Manager 2.0

SMA Data Manager M

SMA Energy Meter

SMA Energy App

SI4.4M-13

SI6.0H-13

SI8.0H-13
Solar Pro can create Other Components with the component codes (SMA monitoring) mentioned above to access the SMA Monitoring exhibit in MyEnergy.