Leverage the unique capabilities of Enphase microinverters to unlock market share, increase close rates, and make more money. Enphase is the job winning choice for irregular roofs, partial shading, custom designs, real-time panel-level monitoring, and premium installations. Utilized by installers across Australia, Enphase represents a commitment to safe, smart and tough solar. Team up with Enphase today, visit www.enphase.com/au.
How to activate exhibiting content from Enphase
Description of Enphase hardware in Online proposal BEFORE activating exhibit:

Description of Enphase hardware in Online proposal AFTER activating exhibit: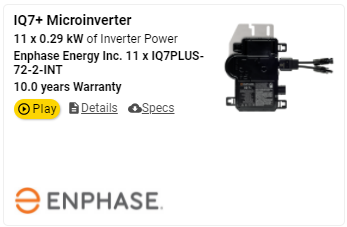 We are happy to announce that Enphase (Australia) is now an exhibiting inverter manufacturer on Opensolar.


Enphase is a public exhibitor i.e., all active Enphase micro-inverters and monitoring systems are available as exhibit to all Solar Pros in Australia. To enable the Enphase exhibit content, please ensure that the inverter and other component codes in your account matches the codes below.
Note: The component Codes are case sensitive.
Here is the list of all Enphase codes that are available with exhibit content:
IQ7/IQ7PLUS/IQ7X/IQ7A (Inverter)
IQ7PLUS-72-2-INT

IQ7X-96-2-INT

IQ7-60-2-INT

IQ7A-72-2-INT
IQ7 (Battery)
IQ7-B1200-LN-I-INT
Enphase Monitoring (Other Components)
Enlighten

ENV-S-WM-230
Solar Pro can create Other Components with the component codes (Enphase monitoring) mentioned above to access Enphase Monitoring exhibit in online proposal.