At sonnen, we are proud to have our pioneering sonnenBatterie hybrid 9.53 certified Australian Made in Elizabeth, South Australia. In November 2018, sonnen opened its manufacturing plant in South Australia, dedicated to building safe, reliable home battery storage systems and accessories. The combination of 10 years of German innovation in design and engineering, along with local production expertise in Australian manufacturing has helped us deliver thousands of quality and intelligent home battery storage systems across Australia and New Zealand.
How to activate exhibiting content from sonnen
Description of sonnen hardware in MyEnergy BEFORE activating exhibit:



Description of sonnen hardware in MyEnergy AFTER activating exhibit: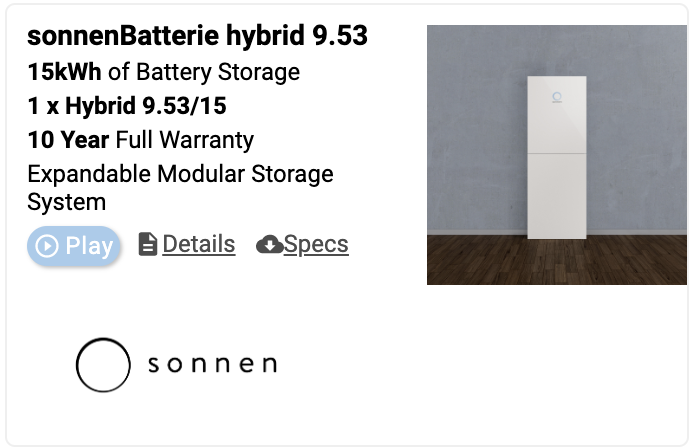 We are happy to announce that sonnen is now an exhibiting battery manufacturer on OpenSolar. Please watch the video below to find out more.
sonnen is a public exhibitor, i.e. the sonnen batteries and other components are available as exhibit to all Solar Pros in Australia and New Zealand. To enable the sonnen exhibit content, please ensure that the battery codes in your account match the codes below.
Note: The component Codes are case sensitive.

Here are the codes for the sonnen products that are available with exhibit content
Batteries
Hybrid 9.53/2.5

Hybrid 9.53/5

Hybrid 9.53/7.5

Hybrid 9.53/10

Hybrid 9.53/12.5

Hybrid 9.53/15
Other Components
sonnenProtect Plus

sonnenEnclosure