GE branded solar inverters are manufactured by GoodWe under the name 'GE Solar Inverter'. GE selected GoodWe as their licenced partner in 2020 to expand its renewable energy activity. The latest and most advanced features have been reserved for GE inverters, which will give consumers access to solar products of the highest quality and reliability.

A dedicated GE Solar Inverter team works to ensure homeowners and businesses in Australia have access to a unique and cost-effective product that offers a glimpse into the world of intelligent solar energy. GE Solar Inverter's goal is to be a significant contributor toward Australia's renewable energy transition and a major technological innovator in the ever-growing Australian solar industry.
How to activate exhibiting content from GE Solar Inverter
Description of GE hardware in the Online Proposal BEFORE activating exhibit:

Description of GE hardware in the Online Proposal AFTER activating exhibit: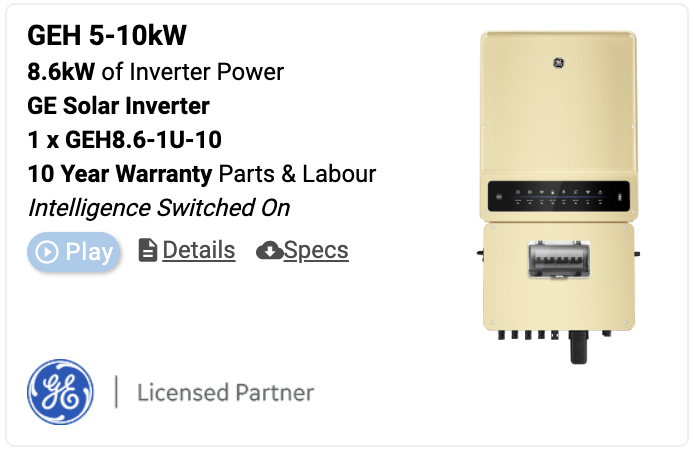 GE Solar Inverter is a public exhibitor, i.e., all active GE Solar inverters and are available as an exhibit to all Solar Pros in Australia. To enable the GE Solar Inverter to exhibit content, please ensure that your account's inverter and other component codes match the codes below.

Note: The component Codes are case sensitive.

Here is the list of all GE Solar Inverter codes that are available with exhibit content:
Inverters
GEH5.0-1U-10

GEH8.6-1U-10

GEH10-1U-10

GEP50-10

GEP60-10

GEP29.9-10

GEP3.6-1-10

GEP4.2-1-10

GEP5.0-1-10

GEP5.0-1C-10

GEP8.5-1-10

GEP10-1-10