"Sungrow Power Supply Co., Ltd. ("Sungrow") is the world's most bankable inverter brand with over 269 GW installed worldwide as of June 2022. Founded in 1997 by University Professor Cao Renxian, Sungrow is a leader in the research and development of solar inverters with the largest dedicated R&D team in the industry and a broad product portfolio offering PV inverter solutions and energy storage systems for utility-scale, commercial & industrial, and residential applications, as well as internationally recognized floating PV plant solutions, NEV driving solutions, EV charging solutions and renewable hydrogen production systems. With a strong 25-year track record in the PV space, Sungrow products power over 150 countries worldwide.


As a leader in innovation in the solar industry, Sungrow possesses a dynamic technical R&D team that consists of over 3100 employees. The Company has also invested in its own in-house testing centre approved by SGS, CSA, and TÜV Rheinland. Sungrow has the world's largest inverter factory, with a global annual production capacity of 145 GW, including 25 GW outside China.


Offering a wide range of solutions and services, Sungrow is committed to providing clean power for all and is steadfast in its efforts to become the global leader in clean power conversion technology.


Learn more about Sungrow by visiting www.sungrowpower.com"


How to activate exhibiting content from Sungrow
Description of Sungrow hardware in MyEnergy BEFORE activating exhibit:

Description of Sungrow hardware in MyEnergy AFTER activating exhibit: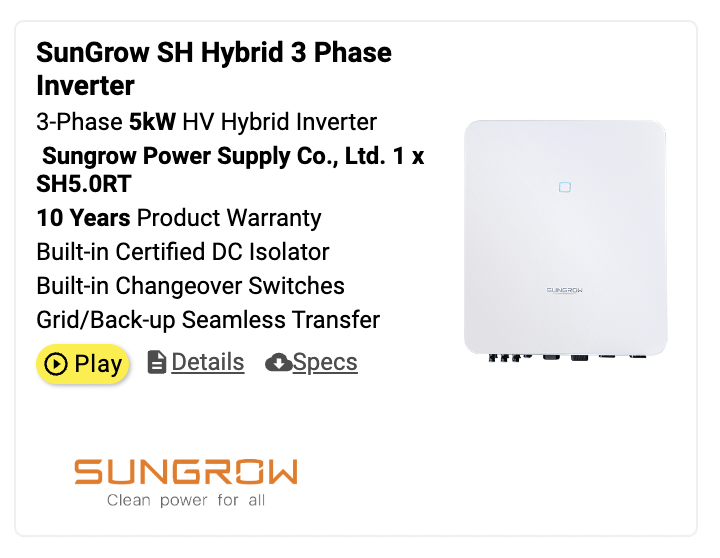 We are happy to announce that Sungrow (Australia) is now an exhibiting inverter manufacturer on Opensolar.


Sungrow is a public exhibitor i.e., all active Sungrow inverters and optimisers are available as exhibit to all Solar Pros in Australia. To enable the Sungrow exhibit content, please ensure that the inverter and other component codes in your account matches the codes below.
Note: The component Codes are case sensitive.
Here is the list of all Sungrow codes that are available with exhibit content:
Inverters (Hybrid Inverters)
SH5K-30

SGR-SG5K-D

SG3K-D

SG5K-D

SG5K-D Premium

SH10RT

SH5.0RT

SG30CX

SG8K-D Premium

SG8K-D