GoodWe is a world-leading PV inverter manufacturer and energy storage solutions provider listed as a public limited company on the Shanghai Stock Exchange (Stock Code: 688390).
With an accumulative delivery of more than two million inverters and installation of 23 GW in more than 100 countries, GoodWe solar inverters have been used in residential and commercial rooftops and industrial and utility-scale systems and range from 0.7kW to 250kW. GoodWe has over 2000 employees in 15 countries and is ranked as the Global No.1 storage inverter by Wood Mackenzie. GoodWe has also been ranked as one of the Top 10 inverter suppliers by IHS Markit and awarded the TUV Rheinland 'All Quality Matters' Awards for five consecutive years.
How to activate exhibiting content from Goodwe
Description of Goodwe hardware in MyEnergy BEFORE activating the exhibit:

Description of Goodwe hardware in MyEnergy AFTER activating exhibit: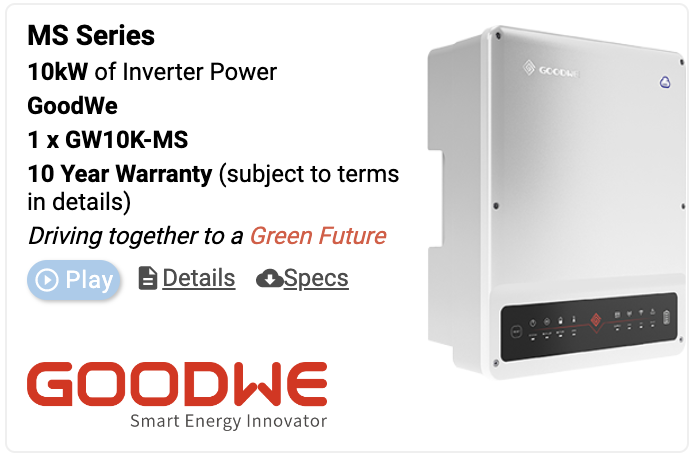 We are happy to announce that Goodwe (Australia) is now an exhibiting inverter manufacturer on Opensolar.


Goodwe is a public exhibitor, i.e., all active Goodwe inverters and battery inverters are available as exhibits to all Solar Pros in Australia. To enable the Goodwe exhibit content, please ensure that your account's inverter and other component codes match the codes below.

Note: The component Codes are case-sensitive.

Here is the list of all Goodwe codes that are available with exhibit content:
Inverters (PV Inverters)
GW3000-DNS-30

GW4200-DNS-30

GW5000-DNS-30

GW6000-DNS-30

GW10KL-DT

GW15KN-DT

GW6000L-DT

GW5000L-DT

GW3000T-DS

GW4200T-DS

GW5000T-DS

GW5000-MS

GW6000-MS

GW8500-MS

GW10K-MS

GW5048D-ES

GW100K-HT

GW110K-HT

GW120K-HT

GW136K-HT

GW5000-EH

GW6000-EH

GW1500-XS

GW2000-XS

GW2500-XS

GW3000-XS

GW50K-MT

GW60K-MT

GW80K-MT

GW25K-MT

GW29.9K-MT

GW36K-MT

GW5KL-ET

GW6KL-ET

GW8KL-ET

GW10KL-ET

GW3000D-NS

GW4200D-NS

GW5000D-NS
Other Components (Battery Inverters)
GW50K-BTC

GW5000S-BP
Battery
LX F6.6-H

LX F9.8-H

LX F13.1-H

LX F16.4-H