Risen Energy (Australia) established its presence in the Australian market in 2008 supplying solar PV panels and energy storage systems to the residential market, commercial market and utility-developers. Risen is also an investor, a developer and solution provider for large commercial and utility-scale projects. Risen is currently regarded as one of the top five panel suppliers in the rooftop sector.
Our specialised panel sales, project development and O&M teams enable us to provide a one-stop solution for renewable projects. What sets us apart from competitors is the ability to offer flexible and innovative project investment and strategic support.
How to activate exhibiting content from Risen
Description of Risen hardware in MyEnergy BEFORE activating exhibit:



Description of Risen hardware in MyEnergy AFTER activating exhibit: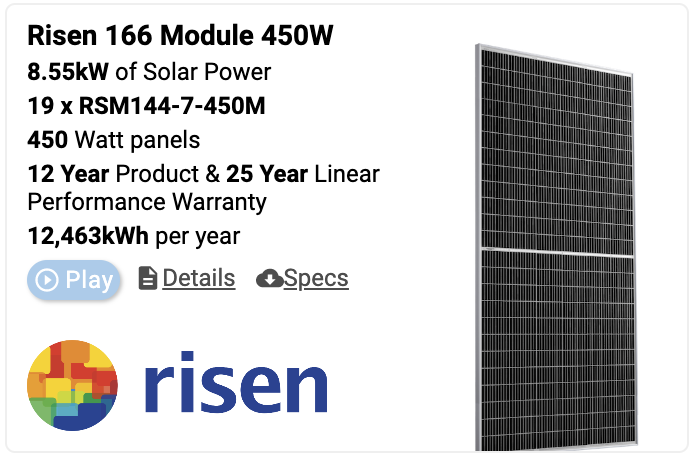 To enable the Risen exhibit content, please ensure that the module codes in your account belong to the series mentioned below.
Note: The component Codes are case sensitive.
Here is the list of Risen components that are available with exhibit content:
Modules
RSM144-7-450M

RSM40-8-390M

RSM40-8-400M

RSM120-8-590M

RSM120-8-595M

RSM120-8-600M

RSM110-8-540M

RSM110-8-545M

RSM110-8-550M

RSM40-8-390MB

RSM150-8-500M

RSM132-6-370M

RSM132-6-375M

RSM156-6-450M

RSM144-6-415M

RSM72-6-330P