At Solaria, we're focused on redefining residential solar with breakthrough technology and products. Our patented cell design, superior solar panel architecture and innovative assembly techniques means that Solaria PowerXT® solar panels significantly boost power generation, provide outstanding performance and superior economics. The high-power density of the Solaria PowerXT solar panels maximise power and energy yield on homeowner roofs, and patented shade-resistant technology keeps Solaria PowerXT solar panels performing beyond when other panels have ceased generating power.


An American company founded in 2000, Solaria continues to leverage its patented technology, engineering expertise and sophisticated automation into creating one of the most attractive, high power, energy efficient solar panels available on the market today.


For more information, please visit www.solaria.com
How to activate exhibiting content from Solaria
Description of Solaria Australia hardware in MyEnergy BEFORE activating exhibit:

Description of Solaria Australia hardware in MyEnergy AFTER activating exhibit: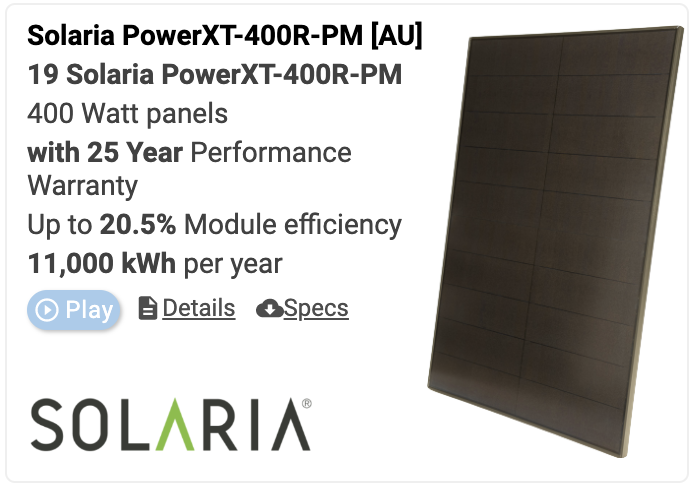 We are pleased to announce that Solaria (Australia) is now an exhibiting module manufacturer on OpenSolar.

All active Solaria modules are available as exhibit to all Solar Pros in Australia. To enable the Solaria exhibit content, please go to the control zone > design & hardware > modules > +create > search for the codes provided below > save. When you add these modules to your active list of components, you can enter the COGS (cost of goods sold), so that these components factor into your price breakdown in studio. You can also enter the product and performance warranty for these modules when creating them in control. These will now appear in your active list of modules in the studio zone for your next solar design!

Note: The component Codes are case sensitive.
Here is the list of Solaria modules that are available with exhibit content:
Solaria Modules
Solaria PowerXT-400R-PM
Solaria PowerXT-420C-PD
Solaria PowerXT-430C-PD
Solaria PowerXT-440C-PD
Solaria PowerXT-410C-PD
Solaria PowerXT-425C-PD
Solaria PowerXT-320R-BX
Solaria PowerXT-325R-BX
Solaria PowerXT-350R-PD
Solaria PowerXT-365R-PD
Solaria PowerXT®-400R-PM-AC
Solaria PowerXT-355R-AC
Solaria PowerXT-365R-AC
Solaria PowerXT-355R-PD
Solaria PowerXT-360R-PD