Document templates can be used to generate various types of offline files (PDFs) in OpenSolar. These templates pull information from specific projects using placeholders and insert them into a given document.
You can create these templates in Control > Other > Document Template > Create Document Template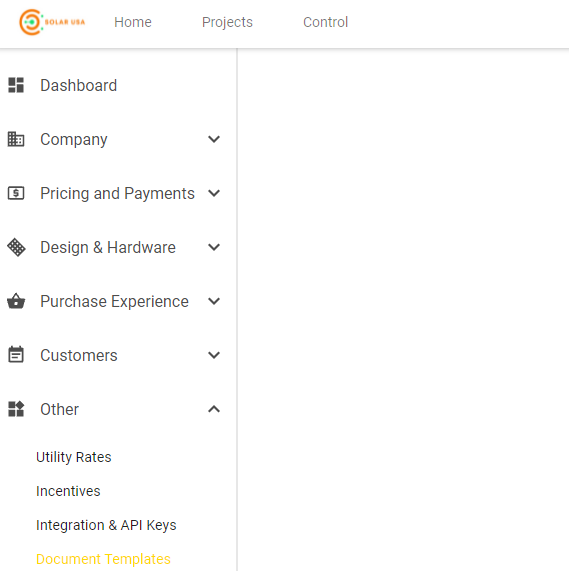 There are 4 types of document templates available in OpenSolar.
Owner's Manual

Generic Document

Installation Instructions

Energy Yield Report
Owner's Manual
This is a document we have designed for you to pass over to your customer once the installation has been completed. The owner's manual is compiled under the guidelines mentioned in the Solar PV Retailer Code of Conduct put together by the Clean Energy Council. It contains key information on the installed solar system such as safety information, connection diagrams, standard procedures, product datasheets, commissioning sheets, and more.
To generate an owner's manual, see here.
Generic Document
This is a template we have designed as a blank canvas for you to customize. You can create your own generic document, utilize all of the placeholders available in our WSYWIG text editor, and insert images if necessary.

Installation Instructions
This is a document designed to hand over to the installer to go and install the solar system. It contains key information such as contact details, site details, the system design image, and component list/configuration. This is a perfect document to hand to installers than are subcontracted or are not a team member in your OpenSolar account.
Energy Yield Report
This document is designed to provide a system overview to the customer. It contains the system parameters (e.g. size, manufacturers, orientation, etc.), and shows all of the systems that have been designed and are shown to the customer. This way the customer can quickly compare the key details of each system they are being offered.
To generate an Energy Yield Report, see here.
Generating a document template for a project
To generate one of these templates, first select the specific project from the Projects zone and select the project you wish to work with. Then, click the Info tab and select Generate Document in the right hand corner of the page.

You can then select which type of template you would like to generate for this specific project. Be mindful that when generating this file, it will only pull information from the project that you are currently in. If you would like to generate a document for another project, return to your project list, select the designated project, and generate the new file.