This article is located in the Projects zone > Design tab area of the app.

It is important to apply all available federal, state, and local incentives during the project design process so that they show up in your proposal. You have the ability to choose these incentives and designate whether they are claimed by the installer or customer.
(Note: To make sure your incentives are set up to apply during the project design process click here.
To find and apply your incentives to a project design, you will need to navigate to the left toolbar. Click the section that says "Incentives" to begin. See image below.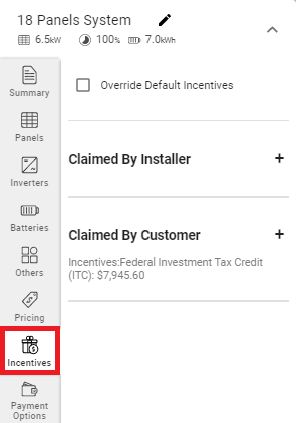 If your project is in the United States, for example, you will notice that the federal solar investment tax credit (ITC) is set by default. In the Control zone you can set certain incentives to "auto-apply" given the geographic location of your particular project(s).
To override the default incentives follow the steps below:
While on the left toolbar, as shown above, you can apply an additional incentive to your project by selecting the box next to "Override Default Incentives."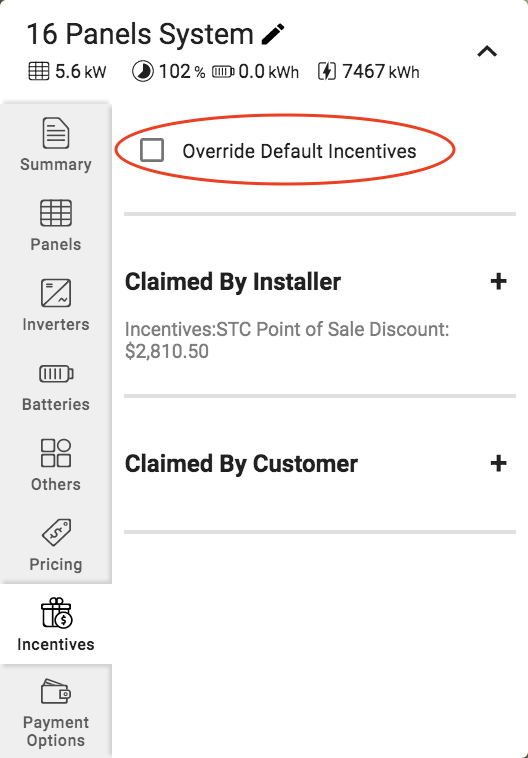 From here you will see a list of available incentives. If you are adding an additional incentive (e.g. a state-specific performance-based incentive) you can select that here from your list.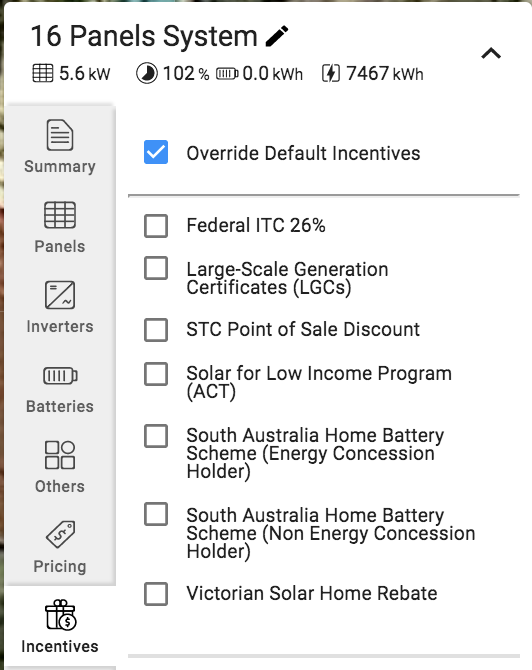 You can also apply one-off incentives at a set value by clicking the + button in the Incentives section. See below for an example of a one-time local solar rebate.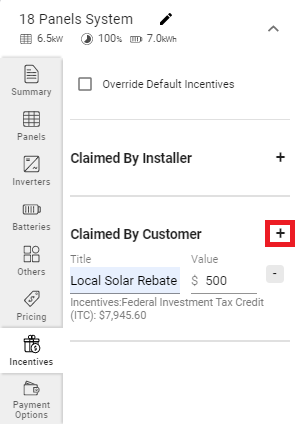 Important Note: If the project qualifies for the federal ITC, make sure to select this incentive from the list because it will be unselected after you click "Override Default Incentives."
Once you are finished with adding all your available incentives, make sure to save your project in the top right corner.
In your customer-facing proposal, which you can customize in "Proposal Settings" in the Control zone, you will see tax credit/rebate incentives (e.g. ITC) show up in your "Quotation Table" while performance-based incentives will show in "Bill Savings."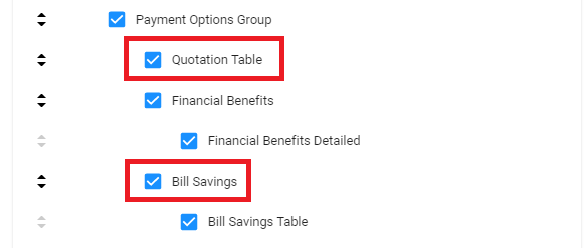 Put disclaimer about not guaranteeing PBI payments so therefore not in the quotation table.