This article reviews:
What setback and design settings are
How to adjust the settings
Creating setbacks in a design
Design & Setback settings define the default value used by OpenSolar to:
Design systems
Simulate system performance and lifetime
Calculate system savings for the customer
You can create multiple templates that can be applied manually on per project basis or auto-applied based on project address or sector.
Create Setbacks & Design templates
From the Control page, scroll down to find the subsection in the left sidebar with the heading Setbacks and Design Settings under Design & Hardware.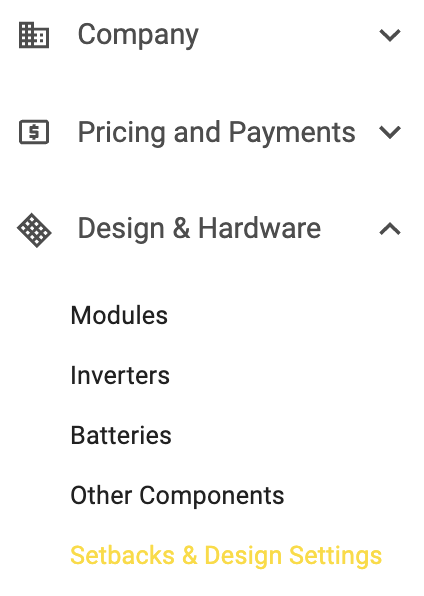 Click on

or click "Edit" to amend previous templates.
Once you click on "Add Setback and Design Settings", you need to add a title and can add a description when you create a new setting as shown below: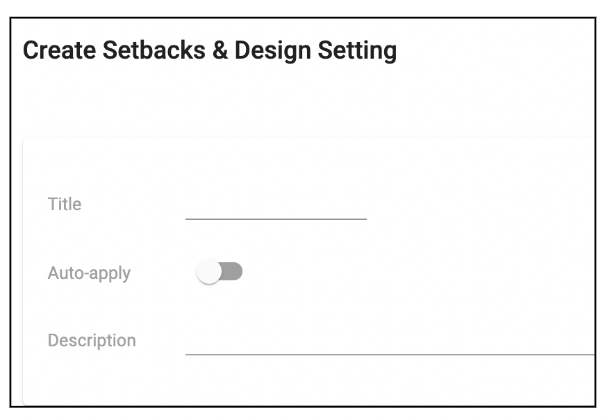 Click on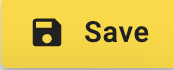 After saving, you will see two different settings:

Customise Setbacks and Design Settings
Click the setbacks & design settings section.
Firstly you will be able to set whether you would like the inverter modeling to be set to automatic or manual. This is a setting which will impact how you design in Studio. If you set the inverter modeling to manual when you design, you will be required to design the inverter configuration if you wish to include it.


The next section deals with the distance between panels and edges that will be used when you create a 3D design.
Here you can enter in the distance in metres/feet for each of the different edge types and also for objects.
After you have done this, you have the option to define the default values for using tilt racks.
Default tilt: This is the number of degrees that the panels will be tilted to if they are placed on a surface which is tilted less than the slope specified in the next input.
Apply tilt racks below slope: If panels are placed on a surface which has a slope less than this value they will automatically be placed on tilt racks to the default tilt value.
Default orientation: This is the way that the panels will be placed by default.
Once you have finished editing, then ensure that you press the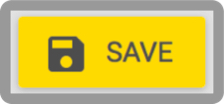 button at the bottom of the page.
Customise Simulation Settings
Please refer to the article here.
Auto-Apply Settings
You can also toggle on "Auto-apply" for the settings to be applied automatically on the projects that do not have a Design and Setback setting applied manually: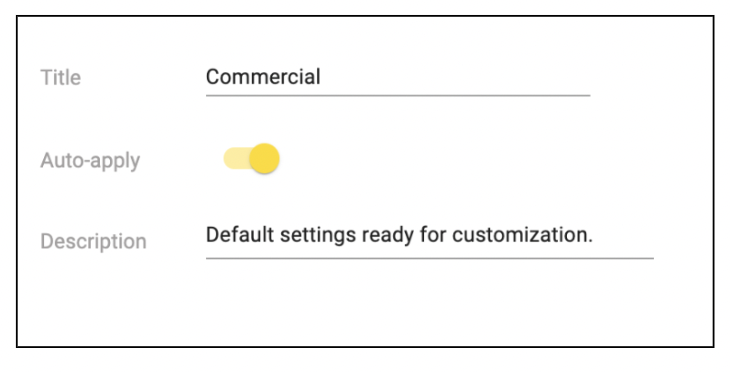 This will enable a new section on the template. You can define the State (csv), Zip (csv), sector (Residential, commercial, any) and priority of the Design & Setbacks template.
Note: All the auto-apply settings must satisfy for the Design & Setbacks template to be auto-applied to a project.