We have partnered with GreenLancer to help you cut your permitting costs with on-demand permitting packages.
About GreenLancer
GreenLancer is the only online marketplace for solar installers to get standardized, quality permit design and engineering solutions with speed, scale and reliability. The platform allows for batch project management, in-app communication, and a team of support specialists to help solar businesses save time and money. Since 2013, GreenLancer has served more than 5,000 solar installers on over 150,000 projects, and deployed $1.8 billion (and counting) in commercial and residential solar nationwide. For more information, visit www.greenlancer.com
Do not have a GreenLancer Account?
How to request GreenLancer services?
Click on the Projects section of OpenSolar, go to the info area of your specific project, and scroll down to the "Installation" drop down tab.


Click the "

Send Project to GreenLancer

" button below

If you are doing it for the first time, you should see a choice for account connection. You can either create a new account or sign in with your existing account.

After you have successfully connected your GreenLancer account, simply select the service you want to avail and click

Send Project

.
Note: OpenSolar remembers your GreenLancer login.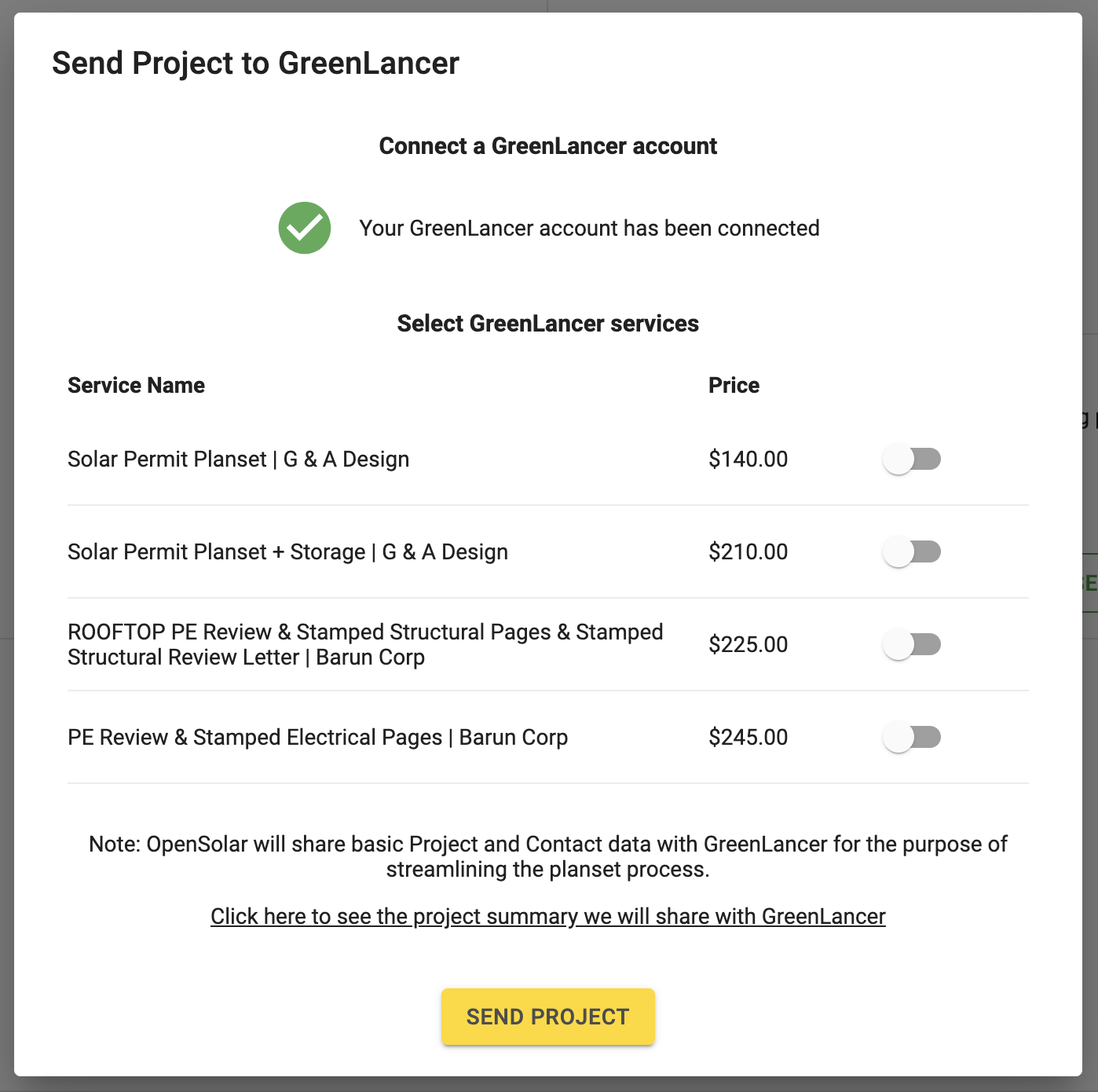 After you click Send Project, your project will be created on GreenLancer's platform.

The Send Project to GreenLancer button will now be updated to View Project in GreenLancer.

How do you disconnect GreenLancer account from OpenSolar?
You can disconnect GreenLancer account from OpenSolar by going to Control > Others > Integrations & API Keys > GreenLancer Integration and click "Disconnect GreenLancer Account" button.