Natron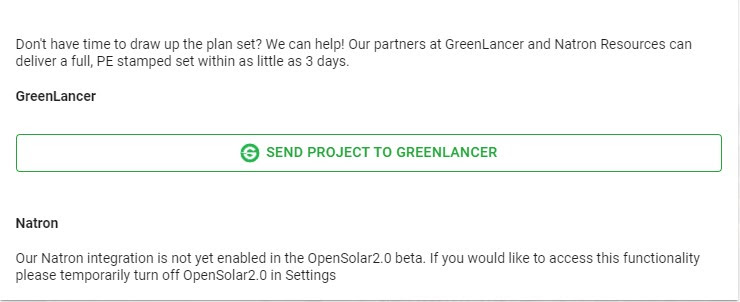 We have partnered with GreenLancer to help you cut your permitting costs with on-demand permitting packages.
About Natron Resources
Natron Resources' expert staff draws on over 100 years of combined experience in electrical engineering, concentrating and flat-plate photovoltaics, and solar thermal, with some of the largest projects in the world to their credit. We have designed commercial solar systems as small as 30kW rooftop to 450MW utility. Our customers benefit from optimal design and shorter lead times, our deep expertise in the solar energy industry, and our superior understanding and execution of their requirements – without the additional fixed cost or operating burden of an in-house staff. We employ engineering best practices to ensure solar systems meet or exceed structural and electrical requirements, as well as the specific requirements of IEEE, UL, NEC, ASCE, and IBC Natron Resources handles all aspects of project design including site evaluation and discovery, site engineering, permitting, and project management. Our multi-level approach to design guarantees quality results and lifelong customer satisfaction.
Do not have a Natron Resources Account?
Contact them here to inquire about an account
How to request Natron Resources services?
Click the "Send Project to Natron Resources" button on the

Info

section of your specific project.

If you are doing it for the first time, you should see a choice for account connection. You can either create a new account or sign in with your existing account.

After you have successfully connected your Natron Resources account, simply select the service you want to avail and click Send Project.
Note: OpenSolar remembers your Natron Resources login.