This article relates to the Project zone > Design tab of the app.

When you design a system in the Design area, you will be able to see the cost breakdown on the left-hand sidebar. This will give you an on-the-spot breakdown of your project costs so you can see your profits/margin.
From the Control zone, click on Pricing & Payments > Cost Information. Here you can click +Create to make a new cost list. If you already have a cost list, click on Edit.
Click on the heading COGS to access your COGS & Labor Costs, Acquisition Cost, and Fulfilment tables.

Note: Each of the "Per System", "Per Panel" and "Per Watt" columns will add together to generate the total cost for a certain aspect.From here you are able to enter in the cost breakdown in dollars ($) for each option.
For example:
If Labour cost $100 per system (flat fee), and there is a $0.50 per watt for a 5kW system, then the total cost will be $100+$0.50x5kW = $2,600
Within Extra Costs you have the option to set-up various costs regarding the slope of the panels, the number of storeys of the building and the building's roof type.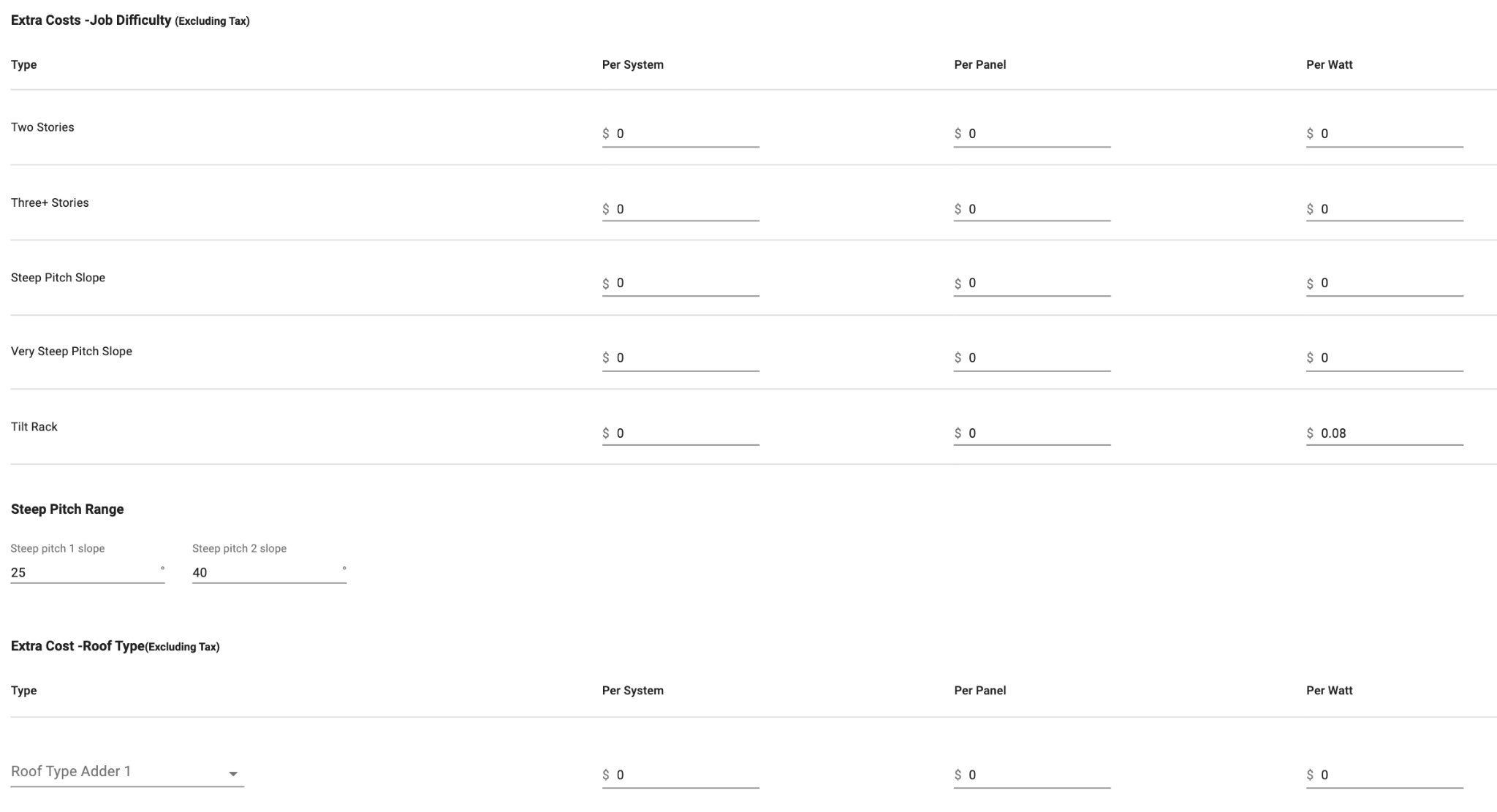 First you can add in costs (per system, per panel and/or per watt) associated with the number of storeys that a building is by filling in the table.
Next you can define whether you would like an extra cost (per system, per panel and/or per watt) to be associated with a tilt greater than a certain angle.
You also have the option of adding an extra cost based on whether tilt racks are being used (per system, per panel and/or per watt).
Finally you can price your systems differently based on what roof type is used.
These extra costs are applied based on various actions. For example:
The "roof type" and "storeys" need to be specified in

projects > info > site details

. Then they will be included in the price breakdown in

design

.

The "very steep pitch" and "tilt racks" costs are included based on the design that you do in the

design

tab (if you set the panel slope to be above the degree you specified within your extra cost settings).
Then, the costs get tallied in the price breakdown like so: