To set up all the types of payment options, navigate to Control > Pricing & Payments > Payment Options.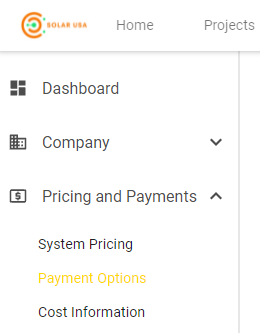 There are online payment options, such as the Stripe credit card integration or Finance Integrations that allow your customers to pay or apply for finance through the online proposal.
There are also offline payment options, such as setting up a cash options to accept bank/internet transfers, or you can create a loan option to model the repayments of particular finance option that is not integrated in OpenSolar (for example a standard 5 year loan, 5% interest rate, monthly repayments).
In order to create a new payment option click on the

button in the top right hand corner.
From here you will be able to:
We currently offer the following payment types. Please see their dedicated articles to know how each of the different payment types can be set-up.
How to set-up electronic signatures
Go to Advanced settings and toggle it ON and then toggle Collect Signature to ON.