OpenSolar works with any meeting scheduling application (e.g. Calendly, CloudHQ - these are free!) to allow your prospects to schedule meetings or video calls with you without all the back-and-forth typically associated with getting meetings scheduled. When this feature is enabled, your prospects will see a button below your name, inviting them to schedule a meeting with you.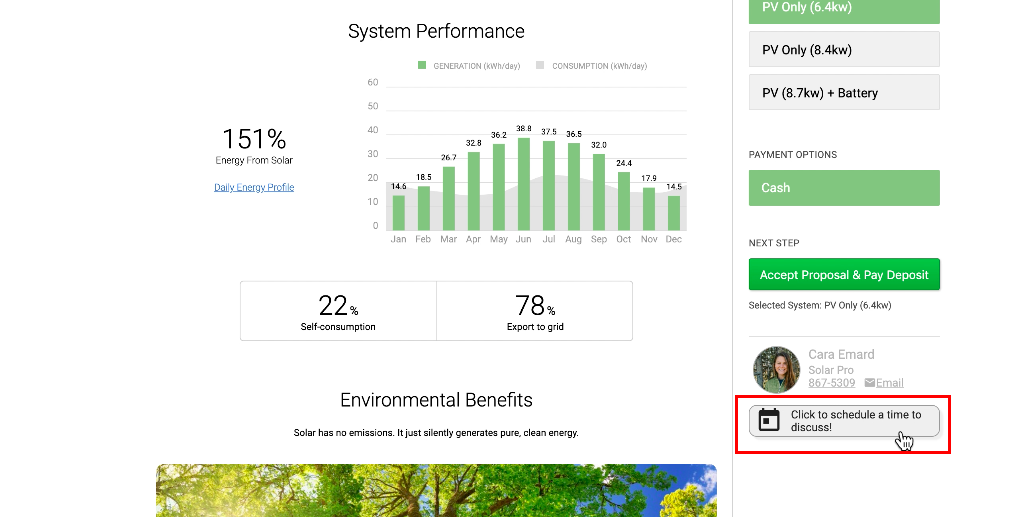 When they click that button, they'll be taken to the meeting scheduling app where they can view your up-to-the-minute availability, and book a time that works for them. When they do that, meeting invitations will be sent to both you and the prospect. You can pre-configure these meeting invitations with any content you want, including links to a video-conference or screen sharing service.
Enabling Meeting Scheduling
First, you will need to set up an account with a meeting scheduler service.

Calendly

has a free account that should meet most needs. Follow the instructions within the meeting scheduling app to get your personal meeting scheduling URL. Copy this URL.

Within OpenSolar,

click the gear in the top right corner of the screen, and then click Settings > Update Personal Details

Scroll down to the "Meeting Scheduler Integration" section and paste your personal meeting scheduler URL into the "External URL" field.

If you want, you can also customize the language that will appear on the scheduling button in online proposal by editing the "Button Label" (note that you are limited to 60 characters here).

Save the page and you're all set.
Once you've enabled this functionality you can also include your meeting scheduling link in the email templates that are sent out when you send a Online proposal to a prospect. To do that, head into the control zone > company > settings > email settings and copy your scheduling link into the Invitation Email Custom Message text editor, as seen below.