Using project tags and actions will help your team stay organized with tasks related to project management. You can fully customize project tags and actions to suit your business needs and installation process.
Project Tags
Project tags will allow you to filter and identify projects by status or designation. For example, you may want to designate a particular project with the following tags: EV Charge Station, Main Breaker Upgrade, Electrical Work Required.
Once project tags have been assigned to a project, you can filter projects based on a specific tag in your Projects zone.
click

"Add Filter"

in the top right corner

Select "

Tags

"

Click the "

Tags

" dropdown and select the tag you wish to filter for your projects
After filtering for a specific tag, you are also able to download a CSV report by selecting "download" in the bottom left corner.

If you want to create a queue of projects to help your team to work on different tasks check this article.
Project Actions
Project Actions are found in the project zone > Manage tab and they allow you to fully customize your project timeline based on specific action items. OpenSolar has already enabled default project actions for you to use.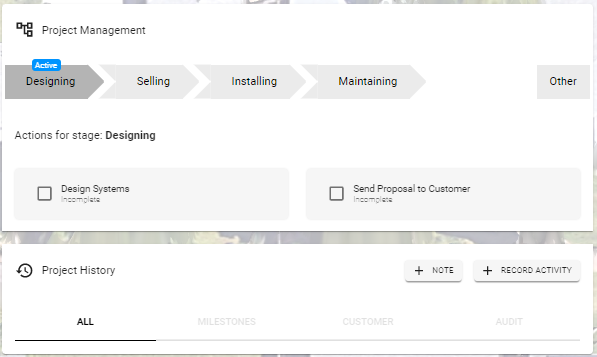 How to Edit your Project Tags and Actions
You are able to customize your project tags and actions in the Control zone > Company > Business Process. You can edit existing or newly created tags/actions, delete, or create new ones.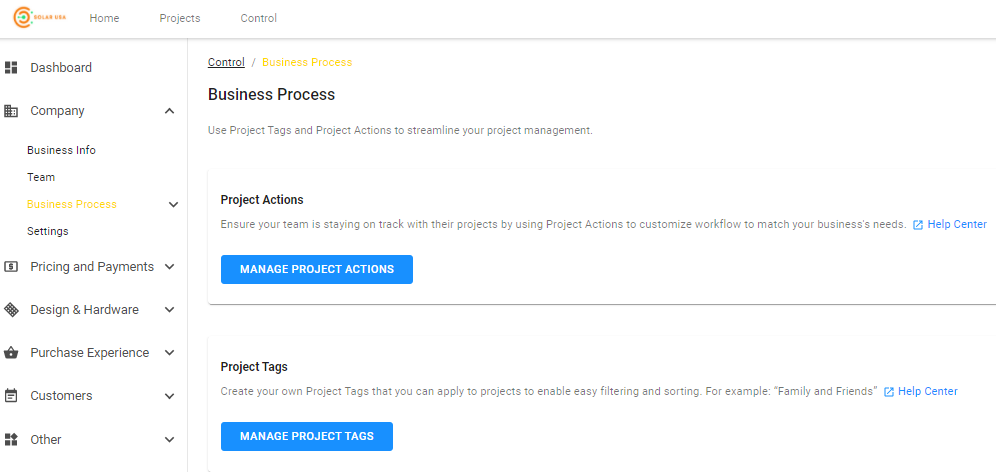 Click on the Manage Project Actions button

Add the title of the action

Choose which stage the action will be under

Choose the order in which the action will appear on the project page

Click on the

button to add your Action to the list.
Note: When you are customizing your project actions, there are two important columns: Stage and Order. You can click "edit" for any project action to change the "Stage" in which it will appear on your project timeline (i.e. Design, Sell, install, Maintain).
By adjusting the number in "Order" you can adjust the order for each project action within that particular stage. A lower number will appear before a higher number in the timeline.