In OpenSolar, you can now customize the email message that your customer receives when you send them their solar proposal. This feature is excellent to personalize and tailor the proposal for each customer to enrich their digital solar experience.
If you hadn't already, you can create a standard default email message that sends to your customer with the proposal by following the instructions here.
However, to change this message for each proposal you send, please continue reading this article.
First select your project by selecting the address.

Navigate from

Project > Online Proposal

.

Click "

Send Proposal To Customer

" located at the bottom right of the page.

When you click this green button, you are prompted with a frame that allows you to customize the email message and subject that sends to your customer with their proposal.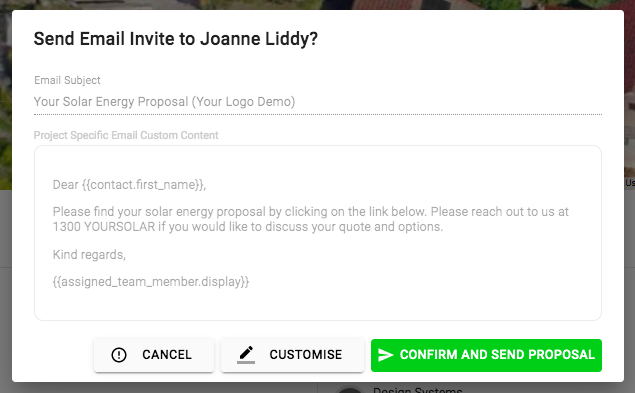 By clicking customize, you can use the WYSIWYG text editor as you normally would to add rich text, paragraph formatting, and placeholders to your message.
Once you are happy with the customized message/subject, click "Confirm And Send Proposal" to deliver it directly to your customer's inbox!