You can easily adjust a system's price by use of price adders or discounts. Here, you can also customise the quotation table with additional line items.
While in Design, select pricing from the left toolbar. Under pricing, click the button that says "+ Price Adder or Discount", as shown below.
Once you click this button, the following popup box will appear for you to customize your price adder or discount.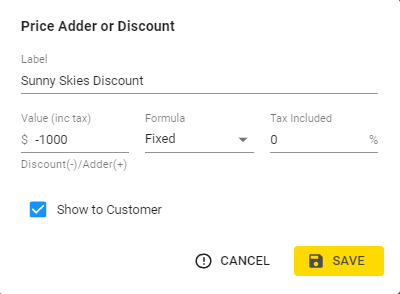 You can apply the price adder or discount as either a fixed value or based on the system size (by watt or by panel). Adjust these under "formula" and make sure to click "show to customer" so the price adder or discount is shown on the proposal and to your customer.
Pro Tip: Remember to use the negative sign (-) if you are applying a price discount!