Before you design with bifacial panels, you must edit the module parameters in Control.

Under "Design and Hardware" click on "Modules" and then click the edit button for the
specific module that will have bifacial characteristics. You can also create a new module with bifacial characteristics by selecting +Create in the top right corner of this page.

Bifaciality: This is the fractional amount of output that the rear side of the bifacial panel will provide when compared with the front. So if it only outputs 70% of the front then use the value of 0.7 here. Use a value of 0 for non-bifacial panels here.
Transmission Factor: This factor which describes how much light will transmit through the bifacial panel. Use a value of 0 for non-bifacial panel.
Once you have confirmed the inputs (bifaciality and transmission) you are now able to start designing your bifacial panel system in Design.
When designing with bifacial panels, you will receive a message in the left toolbar to notify you that you are using panels with bifacial characteristics.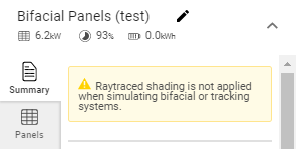 Calculation Considerations: Raytracing is unavailable when designing with bifacial panels. If you would like to learn more about raytracing, please see this article. However, self-shading is available when using bifacial panels and designing with SAM. This self-shade analysis will take into account the shading losses from the modules in the other rows of that panel group.
Pro Tip: You can see production gains from the bifacial panels by clicking "System Losses" in the Summary tab of the left toolbar.