This article relates to the Project zone > Design tab of the app.




OpenSolar now allows for more flexibility with the system price for each payment option in a proposal. You can customize the total system price and adjust the down payment for each system and payment option right from the studio page.

Once you have finished designing your systems, if you want to adjust the Down Payment amount or change Total System Price (adding a discount) based on system & payment option, on the left side of the studio page under payment options click "Customize price by system and payment option button".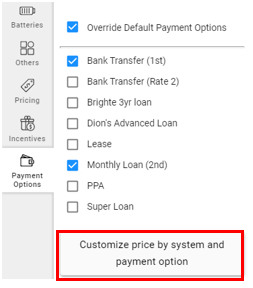 Click the edit button(

) next to Total System Price or Down payment and enter your value, the price override will then fully calculate and the Discount & adders column will show the difference.

Any change to the Total System Price will be reflected in the Quotation table on the MyEnergy Proposal through the discount line item, as shown below.

It is important to note that once a price override is applied to a system, any changes to that system will not automatically update the Total System Price. If you need to edit the system, you will need to remember to go in and update the Total System Price on the payment override screen. To remind you that you have set a price override, you will see the notification in the summary tab of your top left-hand corner.