In OpenSolar, you are able to customize your pricing for a project if there are certain variables that you are taking into consideration, e.g. price adders/discounts. You can also enter a price manually if one of the pricing schemes does not apply to your particular project.
As a reminder, the following calculation methods are available for you to set/customize as pricing schemes for any of your projects:
Price per watt

Price per watt by size

Markup percentage

Fixed price
Pro Tip: You can use one of your default pricing schemes and include customized project costs (e.g. adders/discounts) to arrive at a new overall price for the customer.
How to Customize a Price Adder or Discount
On the left toolbar while in Design, select "Pricing" and then click "+Price Adder or Discount."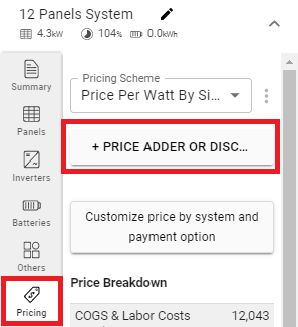 The following popup box will allow you to customize price adders or discounts for a particular project. If you are offering a particular sale discount (e.g. referral discount) or including a price adder (e.g. additional project expense) you are able to set these numbers here. Make sure to use a negative sign "-" if you are applying a price discount.
You also have the ability to choose whether or not you would like the price discount/adder to be shown to your customer.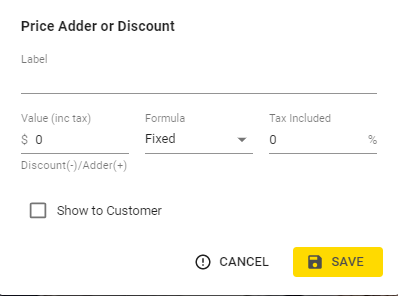 How to Manually Enter a Price
If one of your default schemes is insufficient for a particular project, you can enter a price manually. In the same left toolbar, under Pricing, you will find a dropdown option to do this. The following image shows you how this can be done.