This article is in the individual Projects zone of OpenSolar. Once you've navigated to the Projects page, click the specific project you would like to edit.

Electricity Utility
In order to update the Electricity Utility Tariff for a project, click the Energy tab near the top of the window. Here, you can see either the rate you selected when creating the project, or the utility the OpenSolar system assumed based on the zip code of your project.
The "Current Tariff" is the rate you'd like to use for the customer's past bill savings analysis. If the customer has to move to a different rate with the installation of solar, you can model this by choosing a proposed rate. Future bill savings will be calculated with this rate's parameters. The current tariff will be used for future calculations if you do not choose a proposed rate.
You are able to see rate details, customize your rate, or search the OpenSolar utility tariff database from the main Electricity Utility section.

Clicking the "select new tariff" will let you choose a rate to model with from Recently Used Rates, Current Rates, or Historical Rates. Current rates is where you can search OpenSolar's entire database of utilities and rates.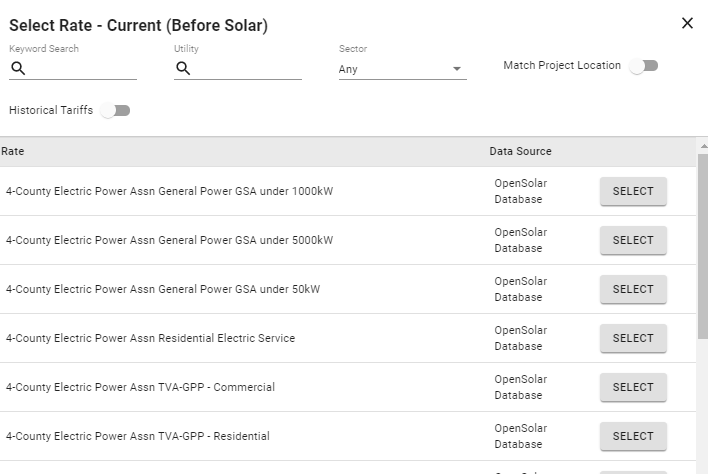 If you cannot find the rate you would like to use in our database, please create a ticket or email support@opensolar.com and include the rate schedule. We will create the rate in the database for you.
Custom Tariff
You are able to create a custom utility tariff in the case OpenSolar does not have a rate in our database or if you would like to create a unique model. If this is a tariff which is likely to only apply to a single project, you can create a once-off tariff on the project page. To find out how to make custom tariffs, please read this article.
After you have finished making changes to this section, ensure that you click the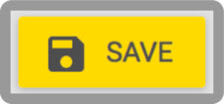 button.